Valentín Perla Blanca Hotel, Adults Only Over 18 Years Old

★

★

★

★

★
Lagunas del Este, Cayo Santa María, Caibarién, Villa Clara, Cuba. Post Code: 52 610. Tel.: (+53 42) 35 0621 /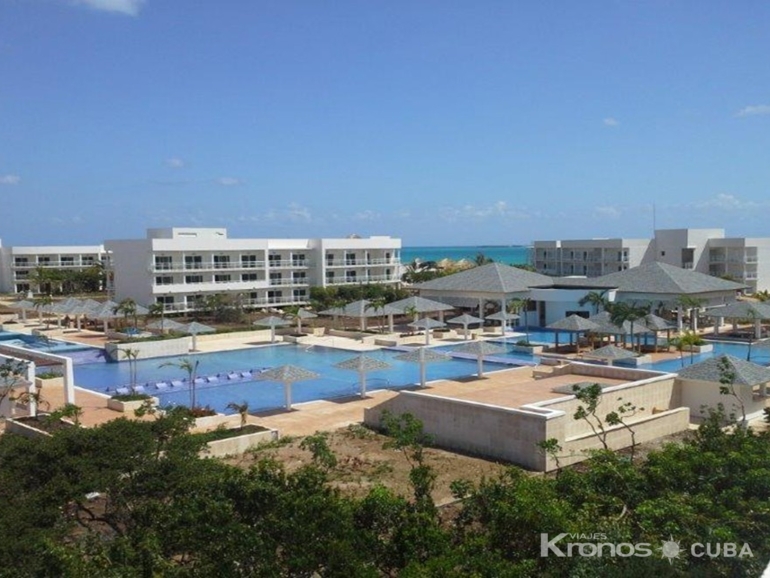 Valentin Perla Blanca is an adults only all inclusive resort (+18), with more than half a mile white sand beach, located in Playa Laguna III in Cayo Santa Maria, Cuba.
It is the perfect place to let your worries go and enjoy living with the nature. The property is designed in the Caribbean modern style.
Hours and Conditions
Check in

16:00 Hrs

Check out

12:00 Hrs

Conditions

- This resort is for Adults Only ages 18 years and over.
IMPERIAL Suite Room

82 m2

6 rooms

(View room facilities)

1 Two-seater sofa
2 Satellite LCD TV's
2 Seater sofa
4 Chairs
Air Conditioning
Balcony or Terrace
Bathroom with bath/shower
Bedroom
Bedside tables
Blackout drapes
Ceiling Fan
Closet
Coffee tables
Dining room area
Direct-dial telephone in bedroom & bathroom
Dressing table
Dressing table chair
Voltage(current):220 V/60 Hz
Furnishings in the Balcony
Furnishings in the Terrace
Garden views
Hairdryer
Iron and ironing board
King Size Bed
Living room
Luggage rack
Bathroom's luxury amenities
Minibar (restocked daily)
Open bathroom concept
Private climate control
Reading lamps
Remote control for TV
Rooms cleaned daily
Safety deposit box
Sea views
Superior category bathroom
Table
Telephone
TV-minibar table
Vanity mirror

×

DELUXE GARDEN VIEW Room

41 m2

320 rooms

(View room facilities)

2 Armchairs
Air Conditioning
Bathroom's amenities
Balcony or Terrace
Bathrobe and slippers
Bathroom with bath/shower
Bedroom
Bedside tables
Blackout drapes
Ceiling Fan
Closet
Coffee tables
Direct-dial telephone in bedroom & bathroom
Dressing table
Dressing table chair
Voltage(current):220 V/60 Hz
Furnishings in the Balcony
Furnishings in the Terrace
Garden views
Hairdryer
Iron and ironing board
King-size or twin beds
Living area
Luggage rack
Minibar (restocked daily)
Private climate control
Reading lamps
Remote control for TV
Rooms cleaned daily
Safety deposit box
Satellite LCD TV
Telephone
TV-minibar table
Vanity mirror

×

DELUXE POOL VIEW Room

41 m2

200 rooms

(View room facilities)

2 Armchairs
Air Conditioning
Bathroom's amenities
Balcony or Terrace
Bathrobe and slippers
Bathroom with bath/shower
Bedroom
Bedside tables
Blackout drapes
Ceiling Fan
Closet
Coffee tables
Direct-dial telephone in bedroom & bathroom
Dressing table
Dressing table chair
Voltage(current):220 V/60 Hz
Furnishings in the Balcony
Furnishings in the Terrace
Hairdryer
Iron and ironing board
King-size or twin beds
Living area
Luggage rack
Minibar (restocked daily)
Pool views
Private climate control
Reading lamps
Remote control for TV
Rooms cleaned daily
Safety deposit box
Satellite LCD TV
Telephone
TV-minibar table
Vanity mirror

×

DELUXE SEA VIEW Room

41 m2

500 rooms

(View room facilities)

2 Armchairs
Air Conditioning
Bathroom's amenities
Balcony or Terrace
Bathroom with bath/shower
Bedroom
Bedside tables
Blackout drapes
Ceiling Fan
Closet
Coffee tables
Direct-dial telephone in bedroom & bathroom
Dressing table
Dressing table chair
Voltage(current):220 V/60 Hz
Furnishings in the Balcony
Furnishings in the Terrace
Hairdryer
Iron and ironing board
King-size or twin beds
Living area
Luggage rack
Minibar (restocked daily)
Private climate control
Reading lamps
Remote control for TV
Rooms cleaned daily
Safety deposit box
Satellite LCD TV
Sea views
Telephone
TV-minibar table
Vanity mirror

×

---

Dining conditions

A variety of atmospheres and culinary options.
The menus and times of the restaurants and bars may be subject to change depending on the season and hotel occupancy.
Non-smoking areas.
Reservations and dress code (formal) for dinner in the specialist restaurants.
Limit of three (3) reservations per week ( 7 night stay).
Wines at lunch and dinner.
3 meals daily and 24 hours snacks and drinks service.
Unlimited alcoholic and non-alcoholic beverages.
Diet and vegetarian dishes (on request).
Live entertainment at some restaurants.

Services and Facilities

($) Services with additional charge