UAZ PATRIOT EXPEDITION or similar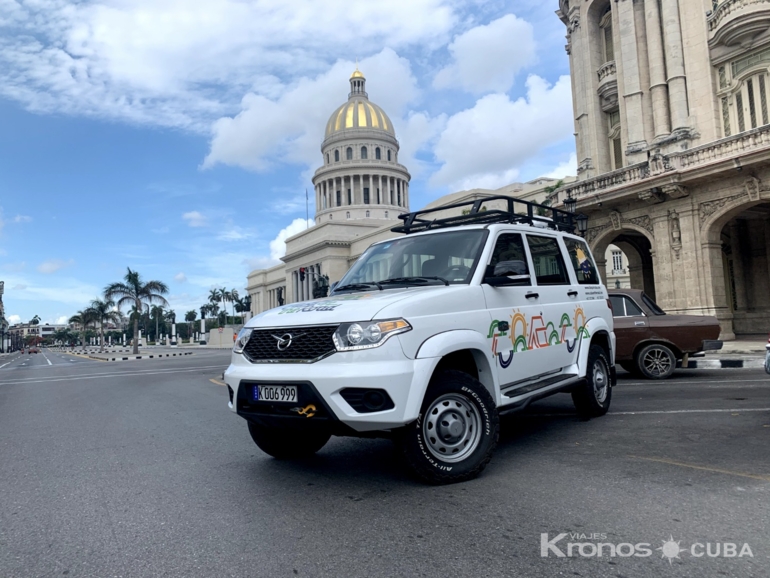 AUTOMATIC
Category: Jeep 4 x 4
Car type: Jeep
Transmission: Automatic
Number of persons: 5
Number of doors: 5
Number of bags: 2-small, 3-big
Engine: 2.5 Lts
Fuel tank capacity: 70 Lts
Consume: 7 Km/Lts
Fuel type: Gasoline
Insurance included
UAZ PATRIOT EXPEDITION features
ABS System
Air - conditioning
Airbag
Assisted Steering
CD Audio System
Centralized electronic door locking
Double-circuit brakes
Electronic window controlled from the driver's seat
Front and rear seat belts
Safe and movable seats
Additional charges
The additional charges are paid directly to the rental company by credit card at the time of opening the contract. Cash payments will not be accepted.
(Cash) 250.00 USD Refundable Guarantee Deposit.
0.00 USD Liability Waiver (Per day).
10.00 USD Additional Driver (Per day).
0.00 USD Airport Collection Fee.
0.00 USD Drop off charges, depending on distance between pick up and drop off locations.
Per each extra km 1.25 EUR/1.25.00 USD Extra days charge.
250 Km 0.00 USD Daily Kms.
Fuel in Tank-Special Gasoline 1.20 USD / L, DIESEL 0.90 USD / L.
Cuba on the road - Oficina Central

Calle 5ta Esq 6, Miramar, Playa, La Habana, Cuba. Zip Code: 11 300.

(+53 7) 272 5848 / (+53 7) 272 2527 / (+53 7) 261 7133 / (+53 7) 204 5720 / (+53 7) 206 2749

07:00 - 17:00 Hrs
---