Hostería Cartacuba
Calle 17, No. 1105, e/ 14 y 16, Vedado, Plaza de la Revolución, Havana, Cuba. Zip Code: 10 400.. Tel.: (+53 7) 831 1377 / (+53 5) 268 5156 /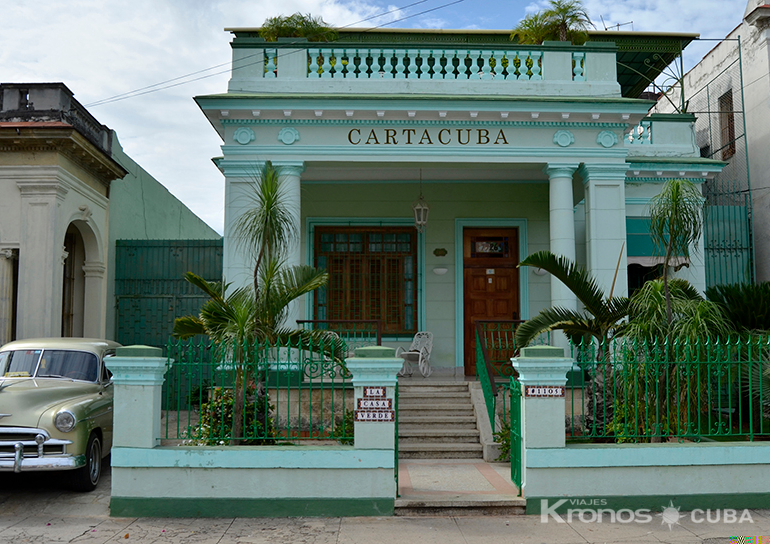 House very spacious and comfortable, with all services well guaranteed. It has its own restaurant on the upper floor where breakfast is offered also the apt of the front that forms part of the inn itself.
Well located in the Vedado very close to the boardwalk. Its owners enjoy a lot of experience in the tourism business, the lady of the house was Cubatur Tourism Guide for 13 years.
A house that invites to the pleasant stay and a very sociable landlords.
Address

Calle 17, No. 1105, e/ 14 y 16, Vedado, Plaza de la Revolución, Havana, Cuba. Zip Code: 10 400.

Propietary

Sr. Acelo Hernández Méndez y Sra. Yamila Estrabao Ballester (Rent the house since 2004)

Official Web

www.viajeskronoscuba.com

Social presence
Hours and Conditions
Check in

14:00 Hrs

Check out

12:00 Hrs

Your booking will be guaranteed at home up to 18.00 hours (6.00PM) of the same day. If your arrival happens to be later, you will have to reconfirm the booking with the owner of the house in a range of 48 to 24 hours before. You will have access to telephones and E-mails in your purchase ticket.
Standard Room

6 rooms

(View room facilities)

1 Twin bed and 1 personal bed
Room's service 24 hrs
Air Conditioning
Bathroom's amenities
Armchairs
Bathroom with shower
Bedside tables
Closet
Voltage(current):110 V/60 Hz
Voltage(current):220 V/60 Hz
Fan
Hot/Cold water(24 hours)
Luggage rack
Minibar $
Private bathroom
Radio/Alarm clock
Reading chair
Reading lamps
Remote control for TV
Rooms cleaned daily
Sheets, blankets and towels
Sofa bed
Terrace
TV
Vanity mirror

×
Services and Facilities
GENERALS

Solarium
Laundry service ($)
Parking lot ($)
Restaurant ($)
Taxis ($)
Transfers in/out ($)
Massages service ($)
Phone service ($)
Breakfast room
Hairdressing service ($)
Manicure service ($)
Car rental ($)
Cocktail lessons ($)
Terrace
Gay friendly
Breakfast service ($)
Dinner service ($)
Currencies accepted: EUR, USD
City view
Dinning room
Hall
Minor sewing service ($)
Pedicure service ($)
Garage inside
Advices and information of the city
Services of drinks and cocktails ($)
Pick up bus station ($)
Indoor patio-garden
Housekeeping service
Early check-in subject to availability
National newspapers
Late check-out subject to availability
Friendly for family / kids
Airport pickup ($)

LEISURE AND ENTERTAINMENT ACTIVITIES

Cooking lessons ($)
Dancing lessons ($)
Local excursions ($)
Spanish lessons ($)
City tour with guide ($)
($) Services with additional charge