Lagunas del Mar Hotel

★

★

★

★

★
Carretera (Pedraplén) a Cayo Santa María, Caibarién, Villa Clara, Cuba. Zip Code: 52 610.. Tel.: (+53 42) 35 0630 / (+53 42) 35 0633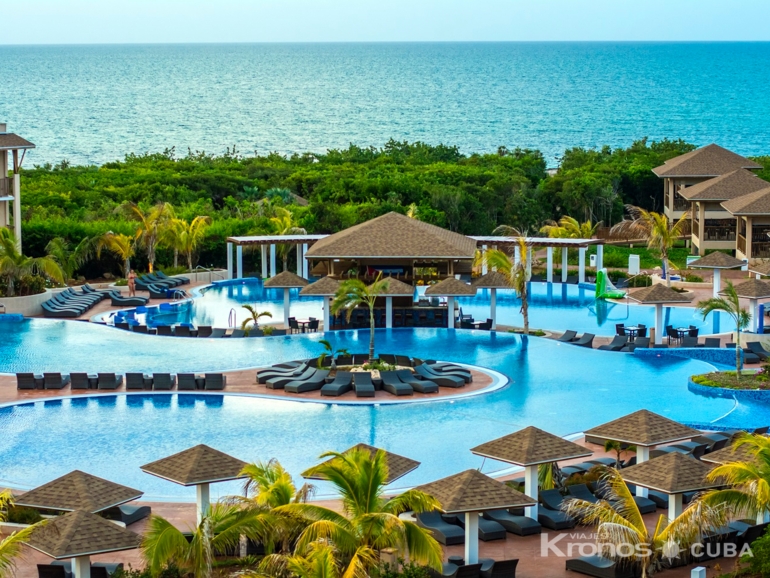 Lagunas del Mar Hotel, Located in the Jardines del Rey archipelago—part of the UNESCO-protected Buenavista Biosphere Reserve—the brand new Hotel Lagunas del Este Resort nestles in 26 hectares of lush tropical gardens and overlooks the sparkling Caribbean Sea. The Cayo Santa Maria Resort's five-star accommodations, services, and amenities perfectly complement the intoxicating cocktail of sun, beach, sea, and nature all around you—combining to create an unforgettable and luxurious Cuba vacation.
The all-inclusive resort features six restaurants and nine bars, a fun cultural and entertainment scene, a Kids' Club to give parents a break, swimming pools, tennis courts, and numerous beach and watersports activities.
Hours and Conditions
Check in

16:00 Hrs

Check out

12:00 Hrs

Conditions

CLIENT GUARANTEES AND RIGHTS OF THE OPERATOR AND THE HOTEL WITH REGARDS TO RESERVATIONS, CANCELLATIONS AND NO SHOWS. NO SHOWS. Early departure, a penalty corresponding to 100% of the entire stay is applied as cancellation fees. Cancellations made less than 05 days before arrival and no show, a penalty corresponding to 2 nights stay applies as cancellation fees.
DELUXE SEA VIEW Room

39 m2

262 rooms

(View room facilities)

2 Twin beds
Air Conditioning
Bathroom's amenities
Amenities in the bathroom
Armchairs
Balcony or Terrace
Bathroom with bath/shower
Beach & pool towels
Bedroom
Bedside tables
Blackout drapes
Closet
Voltage(current):110 V/60 Hz
Electric current:110 V/60 Hz
Voltage(current):220 V/60 Hz
Electric current:220 V/60 Hz
Extra bed (on request)
Free Wi-Fi
Hot/Cold water(24 hours)
Minibar
Minibar $
Music TV channel
Outdoor chair
Pool towels
Private bathroom
Private climate control
Private entrance
Reading lamps
Remote control for TV
Safety deposit box $
Satellite TV
Sheets, blankets and towels
Table
Telephone
Terrace
Toilet
TV

×

Deluxe Room

39 m2

502 rooms

(View room facilities)

Air Conditioning
Amenities in the bathroom
Balcony
Beach & pool towels
Bedroom
Closet
Coffee and Tea Maker
Electric current:220 V/60 Hz
Electronic key card
Fan
Free Wi-Fi
Hairdryer
Hot / Cold water (24 hours)
King-size or twin beds
LCD satellite TV/USB port
Minibar
Safety deposit box
Shower
Wi-Fi connection

×

Excelsior Club Room

39 m2

20 rooms

(View room facilities)

Air Conditioning
AM / FM Clock Radio
Bathroom's amenities
Amenities in the bathroom
Amplifying mirror
Armchairs
Balcony or Terrace
Bathroom with bath/shower
Bathtub
Beach/pool towels in room
Beach towels in the room
Bedroom
Bedroom/lounge
Bedside tables
Blackout drapes
Bottle of rum on arrival
Breathtaking ocean views
Check-out facilities
Closet
Clothes rack
Clothes valet
Coffee and Tea Maker
Coffee tables
Complete bathrooms with separate bathtud & shower
Daily coffee service
Digital safety deposit box
Voltage(current):110 V/60 Hz
Electric current:110 V/60 Hz
Voltage(current):220 V/60 Hz
Electric current:220 V/60 Hz
Exclusive beach area
Express check-in
Express check-in facilities
Facilities for handicapped
Free Internet service (1 hours per day)
Free safety deposit box
Free Wi-Fi
Front sea views
Full Bathroom
Furnishings in the Balcony
Hairdryer
Hot/Cold water(24 hours)
Hot shower rain style
In a quiet area
Iron and ironing board
King-size or twin beds
Late check-out is based on availability
LCD satellite TV/USB port
Lounge sofa
Luggage rack
Made or ready to sleep beds
Magnifying mirror
Manual temperature control
Minibar (restocked daily)
Minibar (water on arrival)
Music TV channel
Preferred restaurant reservations
Private bathroom
Private climate control
Radio/Alarm clock
Reading chair
Reading lamps
Remote control for TV
Reservations in à la carte restaurants
Rooms cleaned daily
Safety deposit box
Seating area
Sheets, blankets and towels
Special service in your stay
Sunrise views
Sunset views
Table
Telephone
Vanity mirror

×

Suite Room

78 m2

16 rooms

(View room facilities)

---

Dining conditions

A variety of atmospheres and culinary options.
The menus and times of the restaurants and bars may be subject to change depending on the season and hotel occupancy.
Non-smoking areas.
Reservations and dress code (formal) for dinner in the specialist restaurants.
3 Meals daily plus snacks.
Wines at lunch and dinner.
Unlimited alcoholic and non-alcoholic beverages.
Diet and vegetarian dishes (on request).
Live entertainment at some restaurants.

Services and Facilities

($) Services with additional charge