Valentín Cayo Cruz Hotel - Adults Only Over 18 Years Old

★

★

★

★

★
Vial Secundario 1, Cayo Cruz, Jardines del Rey, Esmeralda, Camagüey, Cuba. Zip Code: 72 200.. Tel.: (+53 32) 65 2400 /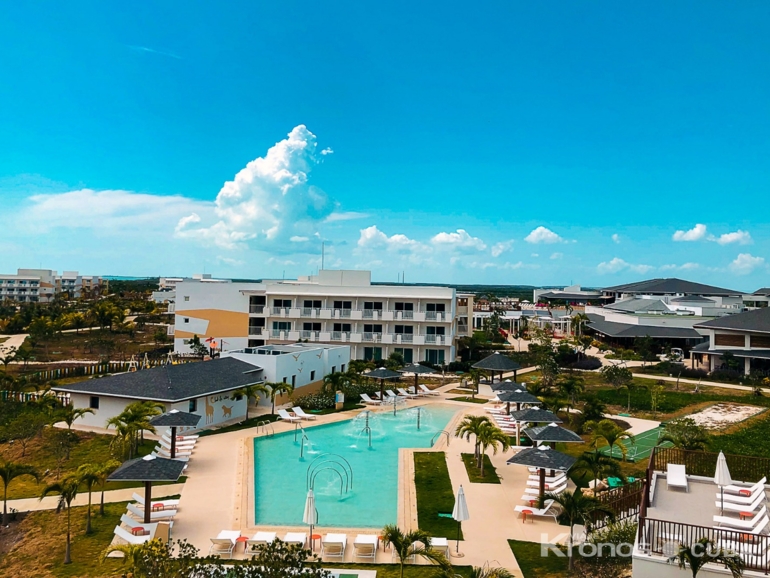 RELATED HOTELS



A minimum of 5 night stay is required!
Valentín Cayo Cruz is a brand new Adults Only (+18) all inclusive resort located on Cayo Cruz, with an extensive white sand beach and stunning turquoise water. Cayo Cruz is a small island in the eastern part of the "Jardines del Rey" archipelago located on the north coast of Cuba (Atlantic side), in the province of Camagüey. This archipelago contains some other islands known for tourism, such as: Cayo Coco, Cayo Guillermo and further west: Cayo Santa María, Cayo Ensenachos and Cayo Las Brujas. Cayo Cruz has approximately 32 square kilometers (12.3 square meters), approximately the same size as Cayo Largo, (another popular tourist island in southern Cuba), is connected to the west with its neighbor, Cayo Romano, by a roadway through the water); and it is also connected to the south with the main island of Cuba (near the town of Brazil). Cayo Cruz has long been known to fly fishermen. Valentín Cayo Cruz is a luxury all-inclusive oceanfront hotel in Cayo Cruz. This hotel is the pinnacle in comfort and services, which makes the accommodation absolutely stunning.
This unique ocean front resort is designed in a contemporary and elegant Caribbean Style and is only 60 minutes away from Cayo Coco International Airport (CCC). Valentin Cayo Cruz offers a total of 546 rooms including Deluxe rooms, Junior suites,Suites and Imperial Suites,connecting and handicap rooms available. Rooms are distributed into 12, three story buildings (no elevators). The resort is divided in two sections, each with it's own swimming pool, as well as 3i nfinity pools in the main central area with a wet bar, Balinese beds, and relaxing areas. It also has 1 buffet, 4 A la Carte restaurants, a snack bar, 7 bars,a beach bar,a nautical area and gazebo. Daily activities & night entertainment including shows and live music.
Located on the sparkling shores of Cayo Cruz, the brand-new Valentin Cayo Cruz is the ultimate destination for tropical adults only getaways. Lounge by one of the numerous infinity pools overlooking the Caribbean Sea or relax on a comfortable Bali bed and sip on mojitos from the beachside wait service.
Hours and Conditions
Check in

16:00 Hrs

Check out

12:00 Hrs
DELUXE SEA VIEW Room

38 m2

174 rooms

(View room facilities)

1 Two-seater sofa
2 Armchairs
Adults bathrobe
Air Conditioning
AM / FM Clock Radio
Amenities in the bathroom
Armchairs
Bathroom with bath/shower
Bathroom with shower
Beach and pool towels
Bedroom
Bedside tables
Breakfast table
Caribbean sea views
Closet
Coffee and Tea Maker
Coffee tables
Dressing closet
Electric current:110 V/60 Hz
Electric current:220 V/60 Hz
Electronic safety deposit box
Furnishings in the Balcony
Furnishings in the Terrace
Garden views
Hairdryer
Iron and ironing board
King-size or twin beds
Late check-out is based on availability
LCD TV
Luggage rack
Minibar
Music TV channel
Newspapers
Private bathroom
Reading lamps
Remote control for TV
Room service
Rooms cleaned daily
Safety deposit box
Sheets, blankets and towels
Telephone
Terrace
TV
Umbrellas
Vanity mirror
Wi-Fi Internet connection $

×

IMPERIAL Suite Room

78 m2

2 rooms

(View room facilities)

2 Satellite TVs
2 Seater sofa
Air Conditioning
AM / FM Clock Radio
Amenities in the bathroom
Armchairs
Bathroom with bath/shower
Bathroom with hydromassage
Bathroom with shower
Bedroom/lounge
Bedside tables
Ceiling Fan
Closed living room
Closet
Coffee and Tea Maker
Coffee tables
Dining room area
Dressing closet
Dressing table
Dressing table chair
Electric current:110 V/60 Hz
Electric current:220 V/60 Hz
Electronic safety deposit box
Full Bathroom
Fully equipped kitchen
Furnishings in the Terrace
Garden views
Guest's bathroom
Hairdryer
Hall
Hot/Cold water(24 hours)
Iron and ironing board
Jacuzzi
King Size Bed
King-size or twin beds
Kitchenette
Late check-out is based on availability
Laundry service
LCD satellite TV/USB port
LCD TV
LCD TV in the lounge
Living area
Living-dining room
Loungers on the terrace
Luggage rack
Luxury bathroom amenities
Minibar (restocked daily)
Music TV channel
Newspapers
Private bathroom
Reading lamps
Remote control for TV
Room service
Rooms cleaned daily
Safety deposit box
Satellite flat TV
Sea views
Telephone
Terrace
Terrace with loungers and hammock
TV 42 "Satellite and multimedia panel
Umbrellas
Vanity mirror
Welcome cocktail
Welcome details
Wi-Fi connection

×

Suite Room

78 m2

8 rooms

(View room facilities)

Adults bathrobe
Air Conditioning
AM / FM Clock Radio
Amenities in the bathroom
Armchairs
Balcony or Terrace
Balcony with lounger & hammock
Bathroom with bath/shower
Beach and pool towels
Bedroom/lounge
Bedside tables
Breakfast area
Breakfast table
Closet
Coffee and Tea Maker
Coffee tables
Dressing closet
Dressing table
Electric current:110 V/60 Hz
Electric current:220 V/60 Hz
Electronic safety deposit box
Furnishings in the Terrace
Garden views
Hairdryer
Iron and ironing board
King Size Bed
King-size or twin beds
Landscape views
Late check-out is based on availability
Laundry service
LCD TV
LCD TV in the lounge
Living-dining room
Luggage rack
Minibar (restocked daily)
Music TV channel
Newspapers
Private bathroom
Reading lamps
Remote control for TV
Room service
Rooms cleaned daily
Satellite flat TV
Sheets, blankets and towels
Telephone
Terrace
Umbrellas
Vanity mirror
Welcome cocktail
Wi-Fi connection

×

DELUXE POOL VIEW Room

38 m2

174 rooms

(View room facilities)

Air Conditioning
AM / FM Clock Radio
Amenities in the bathroom
Armchairs
Balcony or Terrace
Bathroom with shower
Bedroom
Bedside tables
Breakfast table
Ceiling Fan
Closet
Coffee tables
Dressing closet
Electric current:110 V/60 Hz
Electric current:220 V/60 Hz
Electronic safety deposit box
Furnishings in the Balcony
Furnishings in the Terrace
Garden views
Hairdryer
Iron and ironing board
King-size or twin beds
Laundry service
LCD TV
Luggage rack
Minibar
Music TV channel
Newspapers
Private bathroom
Reading lamps
Remote control for TV
Room's service
Rooms cleaned daily
Safety deposit box
Sheets, blankets and towels
Telephone
Terrace
Umbrellas
Vanity mirror
Wi-Fi Internet connection $

×

Junior Suite Room

46 m2

12 rooms

(View room facilities)

Air Conditioning
AM / FM Clock Radio
Amenities in the bathroom
Armchairs
Balcony or Terrace
Bathroom with bath/shower
Beach and pool towels
Bedroom/lounge
Bedside tables
Breakfast area
Breakfast table
Closet
Coffee and Tea Maker
Coffee tables
Double sofabed
Dressing closet
Electric current:110 V/60 Hz
Electric current:220 V/60 Hz
Electronic safety deposit box
Furnishings in the Balcony
Furnishings in the Terrace
Garden views
Hairdryer
Iron and ironing board
King-size or twin beds
Kitchenette
Late check-out is based on availability
Laundry service
LCD satellite TV/USB port
LCD TV
Living-dining room
Loungers on the terrace
Luggage rack
Minibar (restocked daily)
Newspapers
Private bathroom
Reading lamps
Remote control for TV
Room service
Rooms cleaned daily
Safety deposit box
Sheets, blankets and towels
Telephone
Terrace
Umbrellas
Vanity mirror
Wi-Fi Internet connection ($)

×

DELUXE GARDEN VIEW Room

38 m2

174 rooms

(View room facilities)

Air Conditioning
Amenities in the bathroom
Armchairs
Balcony or Terrace
Bathroom with shower
Bedroom
Bedside tables
Breakfast table
Ceiling Fan
Closet
Coffee tables
Dressing table chair
Electric current:110 V/60 Hz
Electric current:220 V/60 Hz
Electronic safety deposit box
Furnishings in the Balcony
Furnishings in the Terrace
Hairdryer
Iron and ironing board
King-size or twin beds
Landscape views
Late check-out is based on availability
Laundry service
LCD TV
Luggage rack
Minibar
Newspapers
Pool views
Reading lamps
Remote control for TV
Room service
Rooms cleaned daily
Safety deposit box
Sheets, blankets and towels
Telephone
Terrace
TV
Vanity mirror
Wi-Fi Internet connection ($)

×

---

Dining conditions

A variety of atmospheres and culinary options.
The menus and times of the restaurants and bars may be subject to change depending on the season and hotel occupancy.
Non-smoking areas.
Reservations and dress code (formal) for dinner in the specialist restaurants.
Wines at lunch and dinner.
Unlimited alcoholic and non-alcoholic beverages.
Diet and vegetarian dishes (on request).
Live entertainment at some restaurants.
Continental breakfast and tea time service.

Services and Facilities

($) Services with additional charge