Gran Muthu Rainbow Hotel - Adults Only Over 18 Years Old LGBT

★

★

★

★

★
Cayo Guillermo, Jardines del Rey, Ciego de Avila, Cuba. Zip Code: 65 100.. Tel.: (+53 33) 31 0200 / (+53 33) 31 0700 /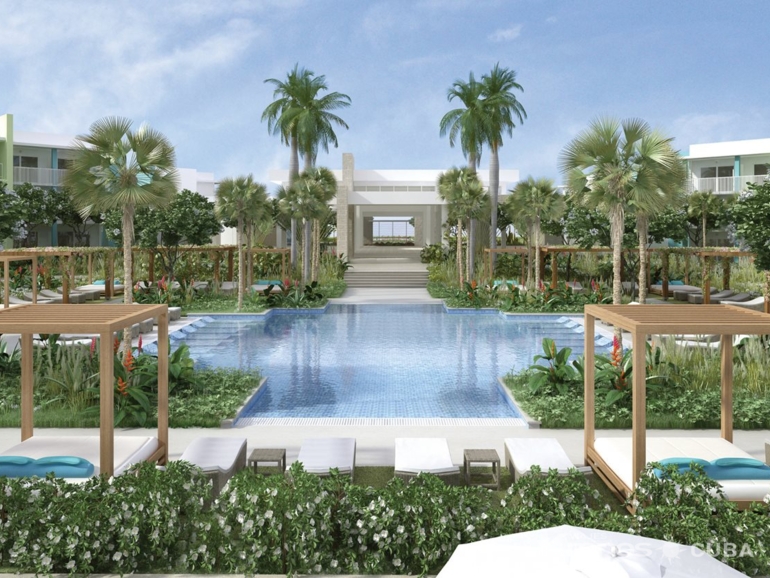 The Gran Muthu Rainbow hotel Adults only is situated on small island off the northern coast of Cuba, in the province of Ciego de Avila. These cays are part of a large achipelago called Jardines del Rey (King's Gardens). The Gran Muthu Rainbow is located in the middle part of Cayo Guillermo, on west side of Playa del Medio, in front of Playuelas.This 5* hotel has 248 rooms - Standard Room, Junior Suite and Suite. Rooms are equipped with air condition, satellite TV, telephone, wifi, safe (for a fee), private bathroom, coffeemaker and ironing facilities. The hotel has 5 restaurant and bar. You can choose from Spanish, international, Cuban and Asian cuisine. You can find the bar in the lobby. The Gran Muthu Rainbow hotel is the first place at the Cuba focused on LGTB costumers.
Located on Playa Playuelas, Cayo Guillermo, a well-known earthly paradise where everyone connects with nature, away from the ordinary to relax and recharge. At Muthu Rainbow guests can make their dreams come true by having special moments and enjoying exciting LGBT events. The Muthu Rainbow Hotel has prepared a complete entertainment program for guests to enjoy the best of Cuban culture in an incredible environment with an exclusive atmosphere. Relax and enjoy watching live shows, playing pool and other games, or taking advantage of the best personalized concierge service available on the Caribbean island.
The all-new Gran Muthu Rainbow Cayo Guillermo has everything for a relaxing and enjoyable vacation, from beautiful sea views in a private setting to a lively ambiance, and modern rooms with inspiring colours.
Hours and Conditions
Check in

16:00 Hrs

Check out

12:00 Hrs
Suite Room

7 rooms

(View room facilities)

1 Two-seater sofa
Air Conditioning
AM / FM Clock Radio
Amenities in the bathroom
Amenities SELECT
Bathrobe and slippers
Bedside tables
Blackout drapes
Breakfast table
Ceiling Fan
Coffee and Tea Maker
Digital safety deposit box
Dining room area
Direct-dial telephone in bedroom and bathroom
Dressing closet
Dressing table chair
Electric current:110 V/60 Hz
Electric current:220 V/60 Hz
Express check-in
Furnishings in the Terrace
Guest's bathroom
Hairdryer
Hall
Hot/Cold water(24 hours)
Iron and ironing board
King Size Bed
Living area
Lounge-bedroom
Luggage rack
Magnifying mirror
Mini-refrigerator
Private bathroom
Private bathroom with bathtub
Reading chair
Reading lamps
Remote control for TV
Rooms cleaned daily
Satellite LCD TV
Sheets, blankets and towels
Telephone
Terrace
TV 42 "Satellite and multimedia panel
Umbrellas
Vanity mirror
Wi-Fi connection

×

Junior Suite Room

241 rooms

(View room facilities)

1 Two-seater sofa
Air Conditioning
AM / FM Clock Radio
Amenities in the bathroom
Armchairs
Bathrobe and slippers
Bedside tables
Ceiling Fan
Coffee and Tea Maker
Digital safety deposit box
Dressing closet
Electric current:110 V/60 Hz
Electric current:220 V/60 Hz
Express check-in
Furnishings in the Terrace
Hairdryer
Hall
Hot/Cold water(24 hours)
Iron and ironing board
King Size Bed
Living area
Lounge-bedroom
Luggage rack
Magnifying mirror
Mini-refrigerator
Private bathroom
Private bathroom with bathtub
Reading chair
Reading lamps
Remote control for TV
Rooms cleaned daily
Sheets, blankets and towels
Telephone
Terrace
TV 42 "Satellite and multimedia panel
Umbrellas
Vanity mirror
Wi-Fi connection

×

---

Dining conditions

A variety of atmospheres and culinary options.
The menus and times of the restaurants and bars may be subject to change depending on the season and hotel occupancy.
Non-smoking areas.
Dress code (formal) in all restaurants.
The buffet service does not include beverages in the price.
Premium Brand Drinks.
24-hour room service ($).
Diet and vegetarian dishes (on request).
Live entertainment at some restaurants.

Services and Facilities

($) Services with additional charge