Residencial Santa Lucia Hotel (Planta Real)

★

★

★

★

★
Ave Tararaco, Playa Santa Lucía, Nuevitas, Camaguey, Cuba. Zip Code: 74 250.. Tel.: (+53 32) 33 6317 / (+53 32) 365142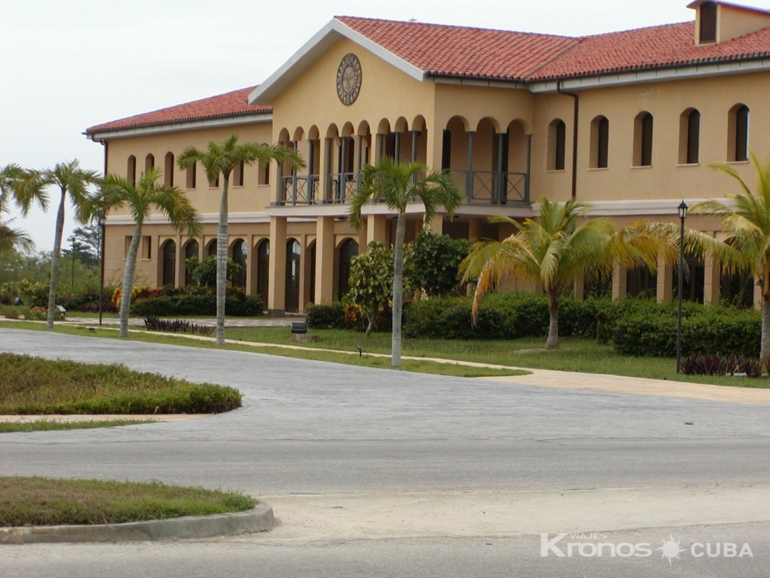 The resort that is located on Santa Lucía beach, on the north coast of Camagueyana, boasts the 4-star category and will market 35 rooms with a suggestive furnished and setting, based on princely decorative traditions. Among the main attractions added will be the differentiated attention by a butler, a completely new service, according to tourism managers.
Sobriety and elegance will be two of the main attractions that will distinguish the Hotel Residencial Planta Real, the most captivating offer of Camagüeyano tourism.
Hours and Conditions
Check in

16:00 Hrs

Check out

12:00 Hrs

Conditions

Cancellations policy - Cancellations more than 10 days before the arrival day, no penalty will be applied. - Cancellations made with less than 10 days and up to 72 hours before the arrival day, a penalty corresponding to the price of one night in the reserved plan will be applied. - "No Shows" Will be applied a penalty corresponding to the amount of the first night of your intended stay.
Standard Room

35 rooms

(View room facilities)

Air Conditioning
Bathroom's amenities
Amplifying mirror
Armchairs
Bathroom with shower
Digital safety deposit box
Electric current:110 V/60 Hz
Electric current:220 V/60 Hz
Flat-screen TV
Hairdryer
Hot / Cold water (24 hours)
Minibar
Private bathroom
Queen size beds
Reading lamps
Remote control for TV
Room's service
Satellite TV

×

Junior Suite Room

75 m2

1 room

(View room facilities)

Air Conditioning
AM / FM Clock Radio
Amenities in the bathroom
Armchairs
Balcony or Terrace
Bathroom with shower
Bedroom
Bedside tables
Breakfast table
Closet
Coffee and Tea Maker
Coffee tables
Dressing table
Dressing table chair
Electric current:110 V/60 Hz
Electric current:220 V/60 Hz
Four-poster king-size beds
Furnishings in the Terrace
Hairdryer
Iron and ironing board
King-size or twin beds
Late check-out is based on availability
Laundry service
LCD TV
Living area
Luggage rack
Minibar
Music TV channel
Newspapers
Private bathroom
Reading lamps
Remote control for TV
Room service
Rooms cleaned daily
Safety deposit box $
Satellite flat TV/USB port
Sheets, blankets and towels
Telephone
Terrace
TV 42 "Satellite and multimedia panel
Umbrellas
Vanity mirror
Welcome cocktail

×

Suite Room

75 m2

1 room

(View room facilities)

Air Conditioning
Amenities in the bathroom
Armchairs
Balcony or Terrace
Bathroom with bath/shower
Bedroom/lounge
Bedside tables
Breakfast area
Breakfast table
Closet
Coffee and Tea Maker
Coffee tables
Digital safety deposit box
Dressing closet
Dressing table
Dressing table chair
Electric current:110 V/60 Hz
Electric current:220 V/60 Hz
Furnishings in the Terrace
Garden views
Hairdryer
Iron and ironing board
King Size Bed
Late check-out is based on availability
Laundry service
LCD satellite TV/USB port
LCD TV
Living area
Luggage rack
Minibar
Music TV channel
Private bathroom
Reading lamps
Remote control for TV
Room service
Rooms cleaned daily
Sheets, blankets and towels
Telephone
Umbrellas
Vanity mirror
Welcome cocktail
Welcome details

×

---

Dining conditions

A variety of atmospheres and culinary options.
The menus and times of the restaurants and bars may be subject to change depending on the season and hotel occupancy.
Non-smoking areas.
Dress code (formal) in all restaurants.
The buffet service does not include beverages in the price.
Premium Brand Drinks.
24-hour room service ($).
Diet and vegetarian dishes (on request).
Live entertainment at some restaurants.

Services and Facilities

($) Services with additional charge