Encanto Camino de Hierro Hotel

★

★

★

★

★
Plaza de la Solidaridad No.76 e/República y Maceo, Camagüey. Cuba. Postal Code: 70 100. Tel.: (+53 32) 28 4264 /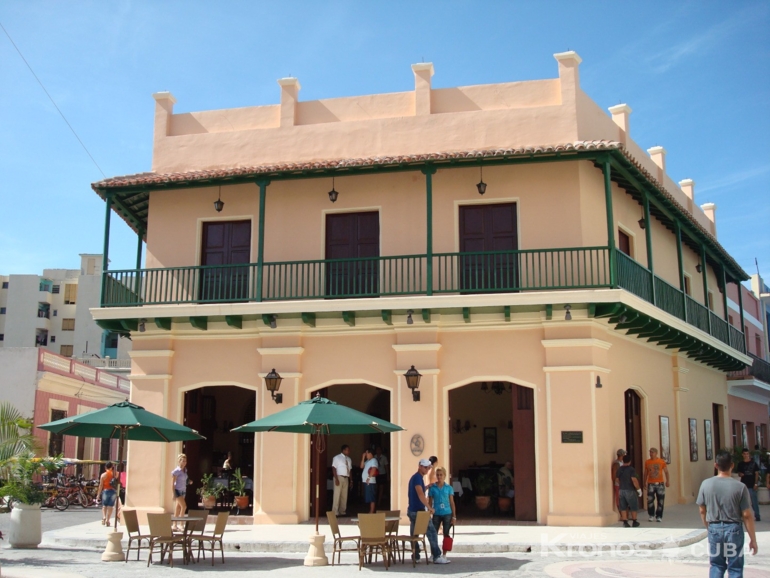 The Hotel Camino de Hierro stands in the former Plaza de La Soledad, today Plaza de El Gallo, one of the busiest spots for foreigners and locals in this sector Camagüeyano, Cultural Heritage of Humanity, is a property of that though documents have not been found to date of its construction, by ensuring that the ground floor dates from the eighteenth century and nineteenth-century high.
Visitors will enjoy continental breakfast, diplomat and house, traditional cocktails, concierge, safe, informative guide to cultural events and places of interest in the environment. The site itself will offer guests a harmonious environment with traditional Cuban culture, and the town, with proven architectural and artistic values​​.
Hours and Conditions
Check in

16:00 Hrs

Check out

12:00 Hrs

Conditions

Cancellations policy - Cancellations more than 10 days before the arrival day, no penalty will be applied. - Cancellations made with less than 10 days and up to 72 hours before the arrival day, a penalty corresponding to the price of one night in the reserved plan will be applied. - "No Shows" Will be applied a penalty corresponding to the amount of the first night of your intended stay.
Standard Room

9 rooms

(View room facilities)

2 Armchairs
Air Conditioning
Bathroom's amenities
Balcony
Bathroom with bath/shower
Bedroom
Bedside tables
City views
Coffee tables
Dressing closet
Dressing table
Dressing table chair
Voltage(current):220 V/60 Hz
Hairdryer
Iron and ironing board
Luggage rack
Magnifying mirror
Minibar $
Reading lamps
Remote control for TV
Rooms cleaned daily
Safety deposit box $
Satellite LCD TV
Telephone
TV-minibar table

×

Junior Suite Room

1 room

(View room facilities)

2 Armchairs
Air Conditioning
Bathroom's amenities
Balcony
Bathroom with bath/shower
Bedroom
Bedside tables
City views
Coffee tables
Dressing closet
Dressing table
Dressing table chair
Voltage(current):220 V/60 Hz
Hairdryer
Iron and ironing board
Luggage rack
Magnifying mirror
Minibar $
Reading lamps
Remote control for TV
Rooms cleaned daily
Safety deposit box $
Satellite LCD TV
Telephone
TV-minibar table

×

---

Dining conditions

A variety of atmospheres and culinary options.
The menus and times of the restaurants and bars may be subject to change depending on the season and hotel occupancy.
Non-smoking areas.
Dress code (formal) in all restaurants.
The buffet service does not include beverages in the price.
Diet and vegetarian dishes (on request).
Live entertainment at some restaurants.

Services and Facilities

GENERALS

Phone services ($)
Taxis services ($)
Internet service ($)
Reception
24 hrs Internal security staff
Private transfers by cars ($)
Pets not allowed
Local excursions ($)
Early check-in ($)
Late check-out ($)
No credit cards issued by US banks accepted
Porter/Bellhop service
Cool lobby
Staff speaks: Spanish & English
Quiet atmosphere
Wake-up service
Strategically situated

LEISURE AND ENTERTAINMENT ACTIVITIES

($) Services with additional charge