Cubanacan Las Cuevas Hotel

★

★

★

★

★
Finca Santa Ana, Trinidad, Sancti Spíritus, Cuba. Postal Code: 62 600. Tel.: (+53 41) 99 6133 / 35 / (+53 41) 99 6161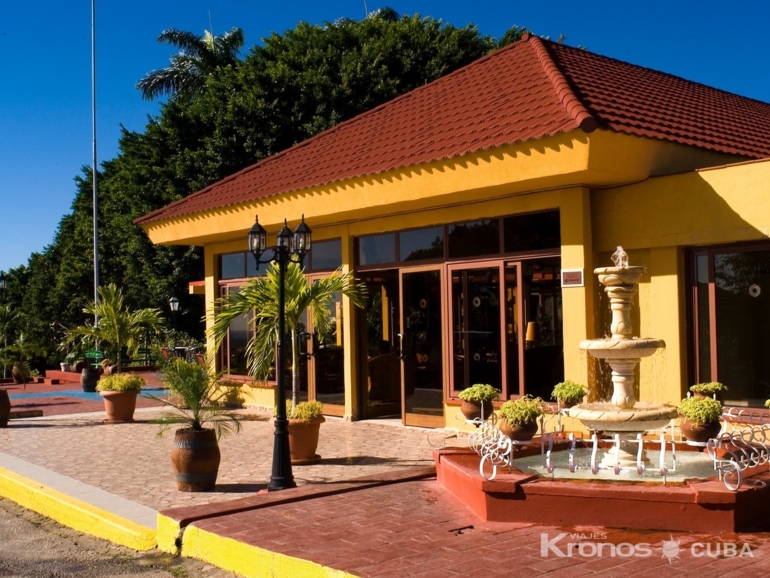 Founded on May 20th of 1956 and named for the caves that dot the hillside, which form an extraordinary labyrinth of stalagmites and stalactites full with spells and legends of the colonial time, the Hotel Las Cuevas is located near the historical center of Trinidad and the Sugar Mills Valley; both declared World Heritage by the UNESCO in 1988.
The hotel, an excellent place for leisure, complements its offer with a wide range of options in the so-called Cuba's Museum City, one of the best-preserved architectural complexes in the American continent.
Hours and Conditions
Check in

16:00 Hrs

Check out

12:00 Hrs

Conditions

Cancellations policy - Cancellations more than 10 days before the arrival day, no penalty will be applied. - Cancellations made with less than 10 days and up to 72 hours before the arrival day, a penalty corresponding to the price of one night in the reserved plan will be applied. - "No Shows" Will be applied a penalty corresponding to the amount of the first night of your intended stay.
Junior Suite Room

10 rooms

(View room facilities)

1 Two-seater sofa
2 Seater sofa
Air Conditioning
Bathroom's amenities
Balcony or Terrace
Bathroom with bath/shower
Bedroom
Bedside tables
Closet
Coffee tables
Dressing table
Dressing table chair
Voltage(current):220 V/60 Hz
Extra bed (on request)
Furnishings in the Balcony
Furnishings in the Terrace
Garden views
Hairdryer
King Size Bed
Living area
Luggage rack
Minibar $
Reading lamps
Remote control for TV
Safety deposit box
Satellite TV
Telephone
TV-minibar table

×

CABIN

104 rooms

(View room facilities)

2 Armchairs
Air Conditioning
Bathroom's amenities
Balcony or Terrace
Bathroom with shower
Bedroom
Bedside tables
Closet
Coffee tables
Dressing table
Dressing table chair
Voltage(current):220 V/60 Hz
Extra bed (on request)
Furnishings in the Balcony
Furnishings in the Terrace
Garden views
Hairdryer
Luggage rack
Minibar $
Reading lamps
Remote control for TV
Rooms cleaned daily
Safety deposit box $
Satellite TV
Telephone
TV-minibar table

×

---

Dining conditions

A variety of atmospheres and culinary options.
The menus and times of the restaurants and bars may be subject to change depending on the season and hotel occupancy.
Non-smoking areas.
Dress code (formal) in all restaurants.
The buffet service does not include beverages in the price.
Premium Brand Drinks.
Diet and vegetarian dishes (on request).
Live entertainment at some restaurants.

Services and Facilities

($) Services with additional charge