Club Amigo Marea del Portillo - Farallón del Caribe Hotel

★

★

★

★

★
Carretera Granma Km. 12 ½, Marea del Portillo, Pilón, Granma, Cuba. Postal Code: 87 900. Tel.: (+53 23) 59 7081 / 83 / (+53 23) 59 7080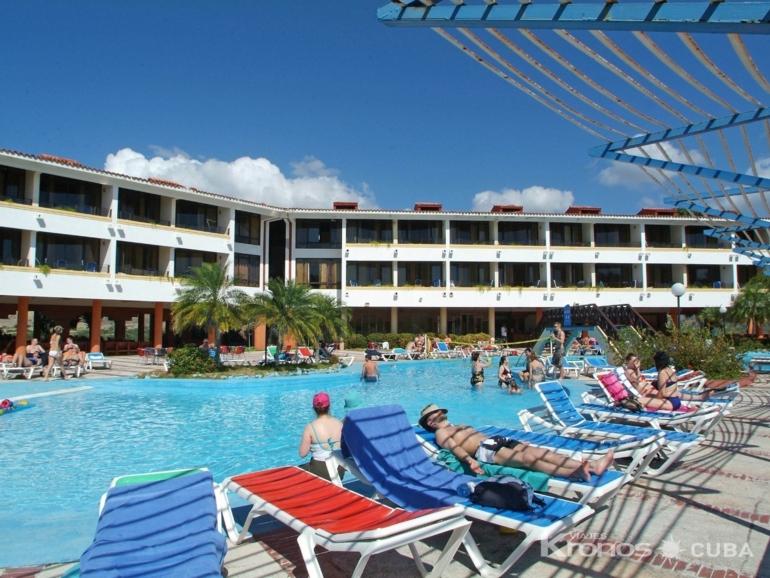 RELATED HOTELS

The 3 star All Inclusive Marea del Portillo - Farallón del Caribe Hotel is located in the Sierra Maestra National Park and is part of the Marea del Portillo beach hotel complex together with Hotel Farallon del Caribe. It is ideal for those who wish to enjoy themselves in a harmonious setting of sea and mountains.
Marea del Portillo, at the Cuba's very southeastern corner, is about as remote a beach resort as you can find in Cuba. The hotel complex and nearby ramshackle fishing village of Marea del Portillo occupy a broad bay framed by foothills of the Sierra Maestra, which form a rain shadow. This is Cuba's dry quarter, and cactus stud the parched earth.
Hours and Conditions
Check in

16:00 Hrs

Check out

12:00 Hrs

Conditions

Cancellations policy - Cancellations more than 10 days before the arrival day, no penalty will be applied. - Cancellations made with less than 10 days and up to 72 hours before the arrival day, a penalty corresponding to the price of one night in the reserved plan will be applied. - "No Shows" Will be applied a penalty corresponding to the amount of the first night of your intended stay.
Junior Suite Room

4 rooms

(View room facilities)

1 Two-seater sofa
2 Seater sofa
Bathroom's amenities
Balcony or Terrace
Bathroom with bath/shower
Bedroom
Bedside tables
Closet
Coffee tables
Dressing table
Dressing table chair
Electric current:110 V/60 Hz
Electric current:220 V/60 Hz
Furnishings in the Balcony
Furnishings in the Terrace
Garden views
King Size Bed
Living room
Luggage rack
Minibar
Reading lamps
Remote control for TV
Rooms cleaned daily
Safety deposit box $
Satellite TV
Sea views
Telephone
TV-minibar table

×

Standard Room

70 rooms

(View room facilities)

2 Armchairs
Air Conditioning
Bathroom's amenities
Balcony or Terrace
Bathroom with shower
Bedroom
Bedside tables
Closet
Coffee tables
Dressing table
Dressing table chair
Voltage(current):110 V/60 Hz
Voltage(current):220 V/60 Hz
Furnishings in the Balcony
Furnishings in the Terrace
Garden views
Hairdryer
King-size or twin beds
Luggage rack
Minibar
Reading lamps
Remote control for TV
Rooms cleaned daily
Safety deposit box $
Satellite TV
Telephone
TV-minibar table

×

BUNGALOW Room

56 rooms

(View room facilities)

2 Armchairs
Air Conditioning
Bathroom's amenities
Bathroom with bath/shower
Bedroom
Bedside tables
Closet
Coffee tables
Dressing table
Dressing table chair
Voltage(current):110 V/60 Hz
Voltage(current):220 V/60 Hz
Furnishings in the Terrace
Garden views
Hairdryer
King-size or twin beds
Luggage rack
Minibar
Reading lamps
Remote control for TV
Rooms cleaned daily
Safety deposit box $
Satellite TV
Telephone
Terrace
TV-minibar table

×

TROPICAL Room

140 rooms

(View room facilities)

Air Conditioning
Bathroom's amenities
Balcony or Terrace
Bathroom with shower
Bedroom
Bedside tables
Closet
Coffee tables
Connecting rooms
Dressing table
Dressing table chair
Voltage(current):110 V/60 Hz
Voltage(current):220 V/60 Hz
Furnishings in the Balcony
Furnishings in the Terrace
Garden views
Hairdryer
Luggage rack
Minibar
Reading lamps
Remote control for TV
Rooms cleaned daily
Safety deposit box $
Satellite TV
Sea views
Telephone
TV-minibar table

×

---

Dining conditions

A variety of atmospheres and culinary options.
The menus and times of the restaurants and bars may be subject to change depending on the season and hotel occupancy.
Non-smoking areas.
Reservations and dress code (formal) for dinner in the specialist restaurants.
Wines at lunch and dinner.
24 hours snacks and drinks service.
Unlimited alcoholic and non-alcoholic beverages.
Diet and vegetarian dishes (on request).
Live entertainment at some restaurants.

Services and Facilities

($) Services with additional charge