Club Amigo Carisol-Los Corales Hotel

★

★

★

★

★
Carretera de Baconao, km 51, Playa Cazonal, Santiago de Cuba, Cuba. Postal Code: 90 100. Tel.: (+53 22) 35 6115 / (+53 22) 35 6177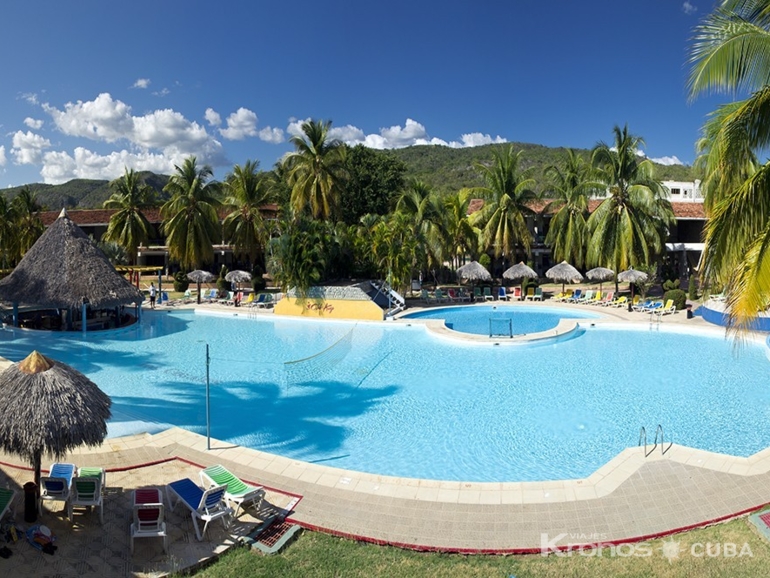 RELATED HOTELS

It is an all-inclusive 3-star resort on the edge of a 3km white sand beach. It is part of the extensive Baconao Park and is comprised of 2-storey buildings and bungalows on a wide stretch of land.
Club Amigo Carisol Los Corales is located just 62 kilometers away from Santiago de Cuba international airport, surrounded by forests populated by local species of flora and fauna which invite you to live completely encompassed by nature. It is situated at the edge of beautiful Baconao National Park with access to a lovely sandy beach.
Hours and Conditions
Check in

16:00 Hrs

Check out

12:00 Hrs

Conditions

Cancellations policy - Cancellations more than 10 days before the arrival day, no penalty will be applied. - Cancellations made with less than 10 days and up to 72 hours before the arrival day, a penalty corresponding to the price of one night in the reserved plan will be applied. - "No Shows" Will be applied a penalty corresponding to the amount of the first night of your intended stay.
Junior Suite Room

46 rooms

(View room facilities)

1 Two-seater sofa
2 Armchairs
2 Seater sofa
Air Conditioning
Bathroom's amenities
Bathroom with bath/shower
Bedroom
Bedside tables
Closet
Coffee tables
Crib (on request)
Dressing table
Dressing table chair
Voltage(current):110 V/60 Hz
Voltage(current):220 V/60 Hz
Extra bed (on request)
Furnishings in the Terrace
Garden views
Hairdryer
Living room
Luggage rack
Minibar
Reading lamps
Remote control for TV
Rooms cleaned daily
Safety deposit box $
Satellite LCD TV
Sea views
Telephone
Terrace
TV-minibar table

×

Standard Room

236 rooms

(View room facilities)

2 Armchairs
Air Conditioning
Bathroom's amenities
Balcony or Terrace
Bathroom with bath/shower
Bedroom
Bedside tables
Closet
Coffee tables
Connecting rooms
Crib (on request)
Dressing table
Dressing table chair
Voltage(current):110 V/60 Hz
Voltage(current):220 V/60 Hz
Extra bed (on request)
Furnishings in the Balcony
Furnishings in the Terrace
Garden views
Hairdryer
Luggage rack
Minibar
Remote control for TV
Rooms cleaned daily
Safety deposit box $
Satellite LCD TV
Sea views
Telephone
TV-minibar table
Vanity mirror

×

Bungalow Room

28 rooms

(View room facilities)

2 Armchairs
Air Conditioning
Amenities in the bathroom
Balcony or Terrace
Bathroom with shower
Bedside tables
Closet
Dressing table
Electric current:110 V/60 Hz
Electric current:220 V/60 Hz
Furnishings in the Balcony
Furnishings in the Terrace
Garden views
Hot / Cold water (24 hours)
King-size or twin beds
Minibar $
Private bathroom
Reading lamps
Remote control for TV
Rooms cleaned daily
Satellite TV
Sheets, blankets and towels
Telephone
Vanity mirror

×

---

Dining conditions

A variety of atmospheres and culinary options.
The menus and times of the restaurants and bars may be subject to change depending on the season and hotel occupancy.
Non-smoking areas.
Reservations and dress code (formal) for dinner in the specialist restaurants.
Unlimited alcoholic and non-alcoholic beverages.
Diet and vegetarian dishes (on request).
Live entertainment at some restaurants.

Services and Facilities

($) Services with additional charge