Memoríes Jibacoa Resort Hotel - Adults Only Over 16 Years Old

★

★

★

★

★
Playa Arroyo Bermejo Via Blanca, Km 60, Santa Cruz del Norte, Mayabeque, Cuba. Postal Code: 32 900. Tel.: (+53 47) 29 5122 /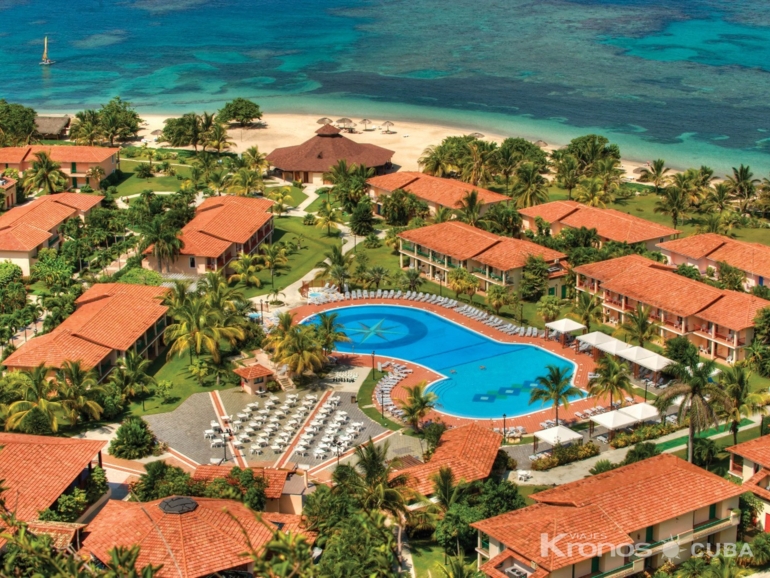 RELATED HOTELS

Memoríes Jibacoa Resort is an all inclusive paradise retreat nestled along the northern coast of western Cuba, perfectly located 50 minutes from the capital city of Havana, sited halfway between Havana and Varadero, 86 km from the Havana International Airport, and 58 km from the Varadero Airport.
Memoríes Jibacoa Resort sits on one of the most beautiful beaches in north cost of Cuba, an ideal spot for nature lovers and for anyone looking for a relaxed vacation. Jibacoa's coral reef, making this place an unforgettable adventure for Snorkelling and Scuba Diving. Diving courses are available for beginners, hotel offers all type of diving courses and immersions at the coral reef.
Hours and Conditions
Check in

15:00 Hrs

Check out

12:00 Hrs

Conditions

- For Adult-only resort: Minimum age required: 16 years old. - Minimum age to check in without an adult: 18 years old.
Standard Pool View

65 m2

1 room

(View room facilities)

Suite Room

10 rooms

(View room facilities)

1 Two-seater sofa
2 Armchairs
2 Bathrooms
2 Connecting spaces
2 Seater sofa
Air Conditioning
Balcony
Bathrobes
Bathroom's scales
Bathroom with bath/shower
Bedroom
Bedside tables
Blackout drapes
CD Player
Closet
Coffee and Tea Maker
Coffee tables
Dressing table
Dressing table chair
DVD Player
Voltage(current):220 V/60 Hz
Extra bed (on request)
Furnishings in the Balcony
Hairdryer
Iron and ironing board
King Size Bed
Kitchenette
Living room
Luggage rack
Bathroom's luxury amenities
Minibar
Non-smoking rooms
Private climate control
Radio/Alarm clock
Reading chair
Reading lamps
Remote control for TV
Rooms cleaned daily
Safety deposit box
Satellite LCD TV
Sea views
Superior category bathroom
Telephone
TV-minibar table
Vanity mirror

×

SEA VIEW Standard Room

85 rooms

(View room facilities)

2 Armchairs
Air Conditioning
Bathroom's amenities
Balcony or Terrace
Bathroom with bath/shower
Bedroom
Bedside tables
Blackout drapes
CD Player
Closet
Coffee and Tea Maker
Coffee tables
Dressing table
Dressing table chair
DVD Player
Voltage(current):220 V/60 Hz
Extra bed (on request)
Furnishings in the Balcony
Furnishings in the Terrace
Hairdryer
Iron and ironing board
King-size or twin beds
Luggage rack
Minibar
Non-smoking rooms
Private climate control
Radio/Alarm clock
Reading lamps
Remote control for TV
Rooms cleaned daily
Safety deposit box
Satellite TV
Sea views
Sitting area
Telephone
TV-minibar table

×

Standard Room

155 rooms

(View room facilities)

Air Conditioning
Bathroom's amenities
Balcony or Terrace
Bathroom with bath/shower
Bedroom
Bedside tables
Blackout drapes
CD Player
Closet
Coffee and Tea Maker
Coffee tables
Connecting rooms
Desk/Working area
Dressing table
Dressing table chair
DVD Player
Voltage(current):220 V/60 Hz
Extra bed (on request)
Furnishings in the Balcony
Furnishings in the Terrace
Garden views
Hairdryer
Iron and ironing board
King-size or twin beds
Luggage rack
Minibar
Non-smoking rooms
Private climate control
Radio/Alarm clock
Reading chair
Reading lamps
Remote control for TV
Rooms cleaned daily
Safety deposit box
Satellite TV
Sitting area
Telephone
TV-minibar table
Vanity mirror

×

---

Dining conditions

A variety of atmospheres and culinary options.
Unlimited alcoholic and non-alcoholic beverages.
The menus and times of the restaurants and bars may be subject to change depending on the season and hotel occupancy.
Non-smoking areas.
Reservations and dress code (formal) for dinner in the specialist restaurants.
Wines at lunch and dinner.
Dinners, additional menu and live music in some restaurants.
Premium international drinks.
Diet and vegetarian dishes (on request).
Continental breakfast and tea time service.

Services and Facilities

($) Services with additional charge