Royalton Habana Paseo del Prado Hotel

★

★

★

★

★
Ave del Prado, esq San Lazaro y Malecón, Centro Habana, Habana, Cuba. Zip Code: 10 200.. Tel.: (+53 7) 860 5212 / (+53 7) 860 4845 / (+53 7) 823 2400 / (+53 7) 823 2400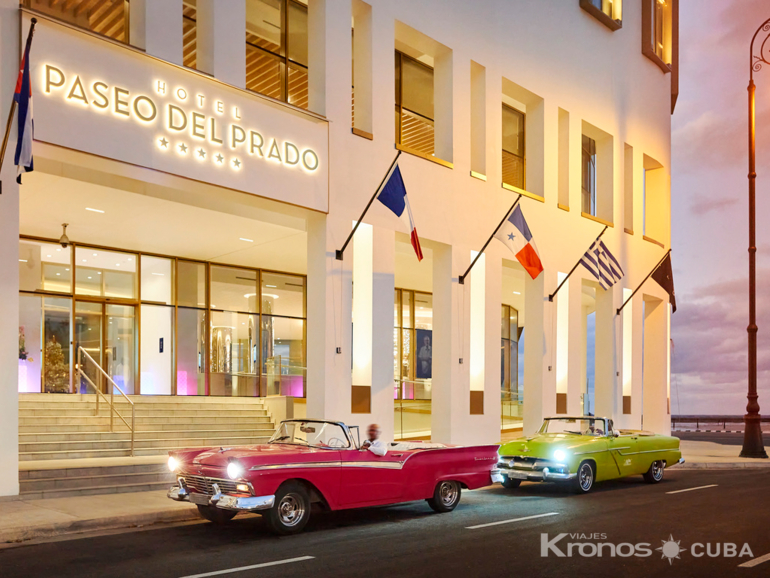 RELATED HOTELS


It is a brand with an exclusive lifestyle and unique attributes, located in select and dynamic destinations around the world. Design as the main theme of the brand, and especially for this Royalton Habana Paseo del Prado in Havana, will be a masterpiece full of glamor and avant-garde created by the creative firm of Spanish fashion designer Agatha Ruiz de la Prada - from the flagship of the hotel, even the modern staff uniforms.
With ten floors above street level on 5,000 square meters, Royalton Habana Paseo del Prado will have 250 rooms, including 36 suites. With a size ranging from 34 to 64 square meters, the rooms will have elegant contemporary furniture, neutral palettes with splashes of color, cutting-edge technology and brand amenities.
Privileged location: breathtaking views of the entire seawall, the sea, the bay of Havana, the Morro fortress and the Cabaña. A viewpoint that covers most of old and modern Havana. The Rooftop bar, on the 9th floor to relax between cocktails and house music, and chillout; as well as contemporary, in addition to enjoying the scenery of the Havana seawall, sunrise and sunset. Chocolatería on the 1st floor. With its unique culture towards service, the hotel will offer its guests an excellent service with touches of boldness and tendency. We are sure that Royalton Habana, will please even the boldest luxury travelers, being one of the most vibrant and coveted hotels in the city. Hotels Royalton receive socialites, lovers of art, fashion and design.
Hours and Conditions
Check in

16:00 Hrs

Check out

12:00 Hrs

Conditions

CLIENT GUARANTEES AND RIGHTS OF THE OPERATOR AND THE HOTEL WITH REGARDS TO RESERVATIONS, CANCELLATIONS AND NO SHOWS. NO SHOWS. - Cancellations made less than 5 days before the start date of the reservation and no-show at the hotel on the day the reservation starts, a penalty corresponding to 100% of the entire stay is applied as cancellation fees.
LUXURY ROOM SUPERIOR HABANA BAY

43 m2

14 rooms

(View room facilities)

LUXURY ROOM OCEAN SUNSET

39 m2

89 rooms

(View room facilities)

LUXURY PROMO

39 m2

22 rooms

(View room facilities)

LUXURY ROOM HABANA BAY

39 m2

103 rooms

(View room facilities)

LUXURY SUITE PANORAMIC VIEW

70 m2

7 rooms

(View room facilities)

LUXURY JUNIOR SUITE

48 m2

11 rooms

(View room facilities)

LUXURY JUNIOR SUITE PLUS OCEAN SUNSET DIAMOND CLUB Room

48 m2

3 rooms

(View room facilities)

LUXURY SUITE PANORAMIC VIEW DIAMOND CLUB Room

78 m2

1 room

(View room facilities)

---

Dining conditions

A variety of atmospheres and culinary options.
The menus and times of the restaurants and bars may be subject to change depending on the season and hotel occupancy.
Non-smoking areas.
Dress code (formal) in all restaurants.
The buffet service does not include beverages in the price.
Premium Brand Drinks.
24-hour room service ($).
Diet and vegetarian dishes (on request).
Live entertainment at some restaurants.

Services and Facilities

($) Services with additional charge