Encanto Royalton Hotel

★

★

★

★

★
Antonio Maceo No. 53 e/ José Joaquín Palma y Donato Mármol, Bayamo, Granma, Cuba. Postal Code: 85 100. Tel.: (+53 23) 42 2290 / (+53 23) 42 2224 / (+53 23) 42 4792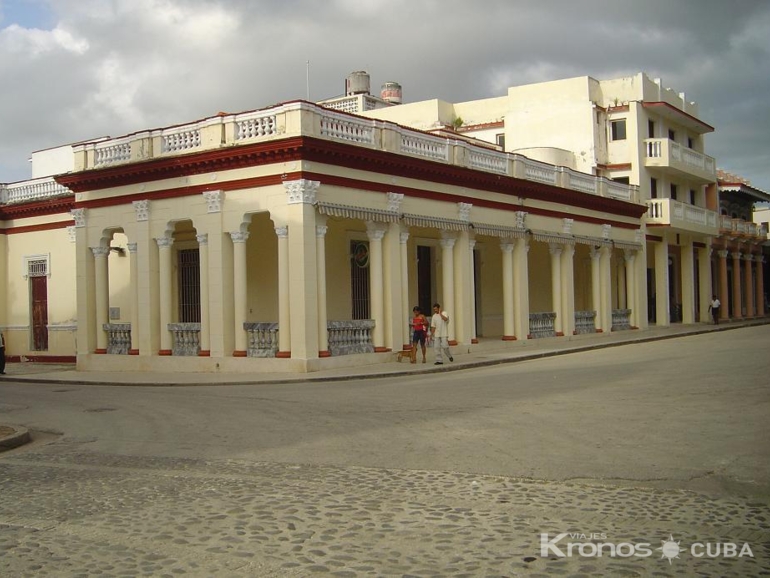 RELATED HOTELS


The hotel Royalton is a boutique yet budget accommodation that stands facing Parque Céspedes, in the historic core of the city of Bayamo. The 1940's hotel was reopened in May 2010 after an extensive refurbishment and is recommended as the best choice in town.
Its location in the historic center of the city of Bayamo, a city with an interesting history that can be discovered a few steps from the installation, The E Royalton hotel is an invitation to enjoy a very pleasant stay in the second township founded by the Spaniards in Cuba.
Hours and Conditions
Check in

16:00 Hrs

Check out

12:00 Hrs

Conditions

CANCELLATION POLICY The hotel reserves the right to apply a cancellation or no-show penalty in case of: - Cancellations made less than 5 days in advance, where 50% of the total stay per person will be discounted from the reserved meal plan. - No show, where 100% of the price of one (1) night per room in the reserved food plan and 50% of the rest of the stay in the reserved food plan will be discounted.
Standard Room

32 rooms

(View room facilities)

2 Armchairs
Air Conditioning
AM / FM Clock Radio
Bathroom's amenities
Bathroom with shower
Bedroom
Bedside tables
City views
Coffee tables
Dressing table
Dressing table chair
Voltage(current):110 V/60 Hz
Voltage(current):220 V/60 Hz
Hairdryer
Luggage rack
Minibar $
Reading lamps
Remote control for TV
Rooms cleaned daily
Safety deposit box $
Satellite TV
Telephone
Vanity mirror

×

Matrimonial Room

1 room

(View room facilities)

2 Armchairs
Air Conditioning
AM / FM Clock Radio
Bathroom's amenities
Bathroom with shower
Bedroom
Bedside tables
City views
Coffee tables
Dressing table
Dressing table chair
Voltage(current):110 V/60 Hz
Voltage(current):220 V/60 Hz
Hairdryer
King Size Bed
Luggage rack
Minibar $
Reading lamps
Remote control for TV
Rooms cleaned daily
Safety deposit box $
Satellite TV
Telephone
Vanity mirror

×

---

Dining conditions

The menus and times of the restaurants and bars may be subject to change depending on the season and hotel occupancy.
Diet and vegetarian dishes (on request).

Services and Facilities

GENERALS

Taxis services ($)
Internet service ($)
Guest's service desk
Luggage's room
24 hrs Internal security staff
Private transfers by cars ($)
Tour desk ($)
Pets not allowed
Local excursions ($)
Early check-in ($)
Late check-out ($)
24 hrs telephone services ($)
No credit cards issued by US banks accepted
Currency exchange ($)
Air-conditioned lobby
Porter/Bellhop service
Quiet atmosphere
Solarium
24 hrs Reception service
Wake-up service
Parking lot ($)
Cyber café ($)
Terrace
Strategically situated
Staff speaks: Spanish, English, & French
Hiking-tours ($)
Trekking tours ($)

($) Services with additional charge