Casa Vitrales
Calle Habana, No. 106, e/ Cuarteles y Chacón, Habana Vieja, La Habana, Cuba. Zip Code: 10 400.. Tel.: (+53 7) 866 2607 / (+53 5) 264 7673 /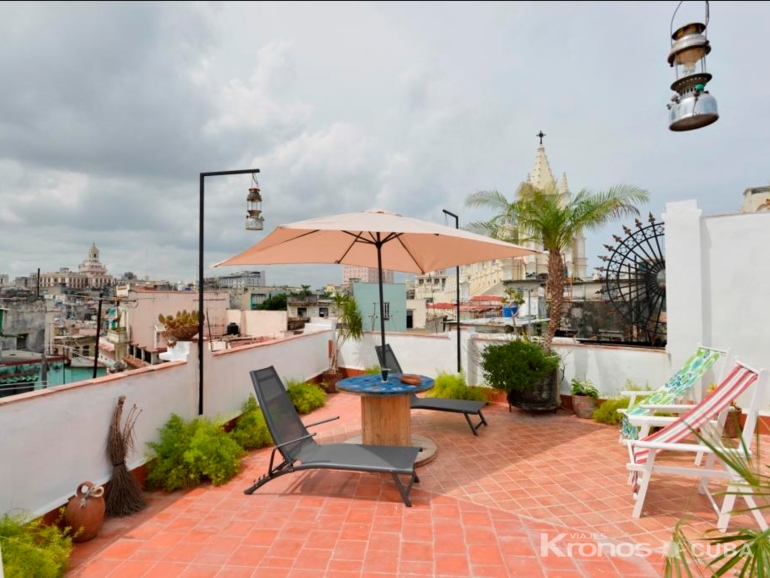 Located in the historic center of Old Havana, Casa Vitrales adds to the new trends of lodging Bed & Breakfast Boutique, to give you a high quality stay with personalized services.
Address

Calle Habana, No. 106, e/ Cuarteles y Chacón, Habana Vieja, La Habana, Cuba. Zip Code: 10 400.

Propietary

Sr. Osmani - (Rent the house since 2012)

Official Web

www.viajeskronoscuba.com / www.cvitrales.com
Hours and Conditions
Check in

14:00 Hrs

Check out

12:00 Hrs

Your booking will be guaranteed at home up to 18.00 hours (6.00PM) of the same day. If your arrival happens to be later, you will have to reconfirm the booking with the owner of the house in a range of 48 to 24 hours before. You will have access to telephones and E-mails in your purchase ticket.
Standard Room

6 rooms

(View room facilities)

1 Twin bed
Air Conditioning
AM / FM Clock Radio
Bathroom's amenities
Bathroom with shower
Bedroom
Bedside tables
City views
Closet
Dressing table chair
Fan
Furnishings in the Terrace
Hairdryer
Hot/Cold water(24 hours)
Luggage rack
Minibar (restocked daily)
Newspapers
Private bathroom
Reading lamps
Room's service
Rooms cleaned daily
Sheets, blankets and towels
Terrace
Vanity mirror

×

COLONIAL Junior Suite Room

2 rooms

(View room facilities)

1 Twin bed
Air Conditioning
AM / FM Clock Radio
Bathroom's amenities
Bathroom with shower
Bedside tables
City views
Closet
Dressing table chair
Fan
Furnishings in the Terrace
Hairdryer
Hot/Cold water(24 hours)
Lounge-bedroom
Luggage rack
Minibar (restocked daily)
Newspapers
Personal bed
Private bathroom
Reading lamps
Room's service
Rooms cleaned daily
Sheets, blankets and towels
Terrace
Vanity mirror

×

Services and Facilities

GENERALS

Music
Solarium
Bar ($)
Laundry service ($)
Parking lot ($)
Taxis ($)
Transfers in/out ($)
Massages service ($)
Phone service ($)
Breakfast room
Hairdressing service ($)
Manicure service ($)
Cocktail lessons ($)
Terrace
Gay friendly
Breakfast service ($)
Currencies accepted: EUR, USD
Audio sistem
City view
Dinning room
Living room
Hall
Minor sewing service ($)
Pedicure service ($)
Washer / Dryer
Baggage storage
Advices and information of the city
TV and DVD's service
Services of drinks and cocktails ($)
Pick up bus station ($)
Early check-in subject to availability
National newspapers
Late check-out subject to availability
Ironing service ($)
Friendly for family / kids
Airport pickup ($)

LEISURE AND ENTERTAINMENT ACTIVITIES

Cooking lessons ($)
Dancing lessons ($)
Local excursions ($)
Spanish lessons ($)
City tour with guide ($)

FAMILIES

($) Services with additional charge