Meliá Jardines del Rey All Inclusive Hotel

★

★

★

★

★
Playa Flamenco, Cayo Coco, Jardines del Rey, Morón, Ciego de Ávila, Cuba. Postal Code: 69 400. Tel.: (+53 33) 30 1180 /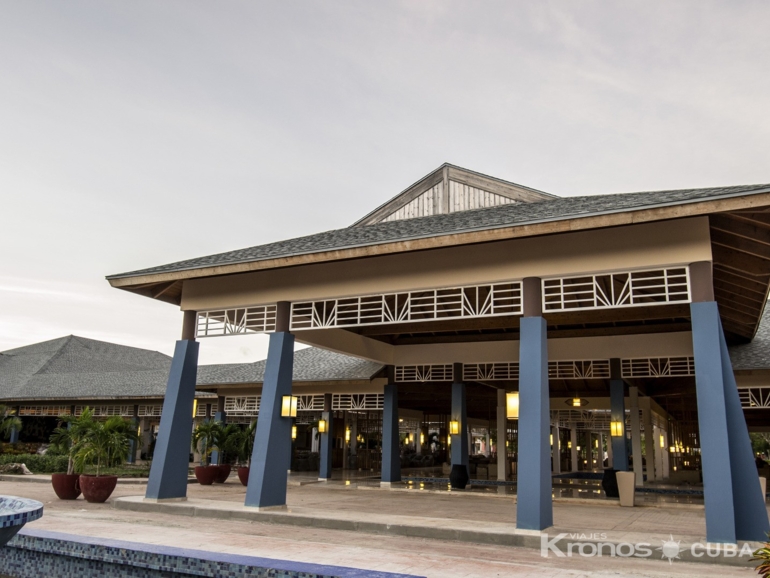 Five stars beach resort, all inclusive, built on the island of Cayo Coco, Ciego de Avila. The hotel is located on the beach of Flamenco, nearby Playa Prohibida, at the east of Tryp Cayo Coco, connected to the mainland by a 17 Km crossway. 20 Km from Morón town and 10 Km from the International Airport "Jardines del Rey".
It has 1176 rooms distribute as bungalows of 3 levels. It was designed as a cane plantation and a main building with modern style.
Hotel with highly-personalised service and wonderful beach locations. Wide range of gastronomic options.
Hours and Conditions
Check in

15:00 Hrs

Check out

12:00 Hrs
Suite Room

82 m2

21 rooms

(View room facilities)

1 Two-seater sofa
2 Armchairs
2 Bathrooms
2 Connecting spaces
2 Satellite LCD TV's
4 Chairs
Air Conditioning
Armchairs
Balcony or Terrace
Balcony table
Bathroom's scales
Bathroom with bath/shower
Bedroom
Bedside tables
Breakfast table
Central table
Coffee and Tea Maker
Coffee tables
Crib (on request)
Daily coffee service
Direct-dial telephone in bedroom
Dressing room
Dressing table
Dressing table chair
Voltage(current):220 V/60 Hz
Extra bed (on request)
Garden views
Hairdryer
Hall
Iron and ironing board
King Size Bed
Living area
Loungers
Luggage rack
Bathroom's luxury amenities
Magnifying mirror
Outdoor chair
Reading chair
Reading lamps
Remote control for TV
Rooms cleaned daily
Table
TV-minibar table
Umbrellas

×

SEA VIEW Suite Room

82 m2

3 rooms

(View room facilities)

1 Two-seater sofa
2 Armchairs
2 Bathrooms
2 Connecting spaces
2 Satellite LCD TV's
4 Chairs
Air Conditioning
Armchairs
Balcony
Balcony table
Bathroom's scales
Bathroom with bath/shower
Bedroom
Bedside tables
Breakfast table
Central table
Coffee and Tea Maker
Coffee tables
Crib (on request)
Daily coffee service
Direct-dial telephone in bedroom
Dressing room
Dressing table
Dressing table chair
Voltage(current):220 V/60 Hz
Extra bed (on request)
Hairdryer
Hall
Iron and ironing board
King Size Bed
Living area
Loungers
Luggage rack
Bathroom's luxury amenities
Magnifying mirror
Outdoor chair
Reading chair
Reading lamps
Remote control for TV
Rooms cleaned daily
Sea views
TV-minibar table
Umbrellas

×

CLASSIC Room

40 m2

1035 rooms

(View room facilities)

2 Armchairs
2 Seater sofa
Air Conditioning
Bathroom's amenities
Balcony
Balcony table
Bathroom with bath/shower
Bedroom
Bedside tables
Breakfast table
Closet
Coffee and Tea Maker
Connecting rooms
Crib (on request)
Daily coffee service
Direct-dial telephone in bedroom
Double sofabed
Easy chairs
Voltage(current):220 V/60 Hz
Extra bed (on request)
Facilities for disabled guests
Garden views
Hairdryer
Hall
Iron and ironing board
King-size or twin beds
Luggage rack
Magnifying mirror
Non-smoking rooms
Pool views
Reading lamps
Remote control for TV
Rooms cleaned daily
Satellite LCD TV
Suitable for wheelchairs
Table
TV-minibar table
Umbrellas

×

SEA VIEW CLASSIC Room

40 m2

117 rooms

(View room facilities)

2 Armchairs
2 Seater sofa
Air Conditioning
Bathroom's amenities
Balcony
Balcony table
Bathroom with bath/shower
Bedroom
Bedside tables
Breakfast table
Closet
Coffee and Tea Maker
Connecting rooms
Crib (on request)
Daily coffee service
Direct-dial telephone in bedroom
Double sofabed
Easy chairs
Voltage(current):220 V/60 Hz
Extra bed (on request)
Hairdryer
Hall
Iron and ironing board
King-size or twin beds
Luggage rack
Magnifying mirror
Non-smoking rooms
Reading lamps
Remote control for TV
Rooms cleaned daily
Satellite LCD TV
Sea views
Table
TV-minibar table
Umbrellas

×

---

Dining conditions

A variety of atmospheres and culinary options.
Unlimited alcoholic and non-alcoholic beverages.
The menus and times of the restaurants and bars may be subject to change depending on the season and hotel occupancy.
Reservations and formal dress code (with long trousers for men for dinner in the specialist restaurants).
Offmenu list of fine wines with additional charge for lunch and dinner.
24-hour food and drink.
Diet and vegetarian dishes (on request).
Live entertainment at some restaurants.
Continental breakfast and tea time service.

Services and Facilities

($) Services with additional charge