Cubanacan Mojito Hotel

★

★

★

★

★
Cayo Coco, Jardines del Rey, Morón, Ciego de Ávila, Cuba. Postal Code: 69 400. Tel.: (+53 33) 30 1470 / (+53 33) 30 1498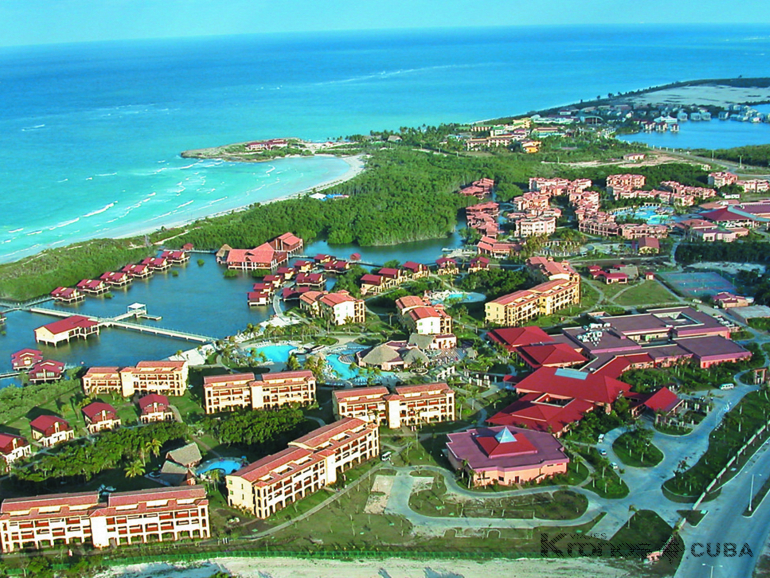 A minimum of 4 night stay is required!
Cubanacan Mojito Hotel is located on Cayo Coco beach, only 12 km. from the airport and 79 km. from the city of Morón. It is a new tourist option for those seeking to enjoy good family vacations. Its attractions not only include the white-sand beach, but also the natural wealth of Cuban biodiversity and the amenities that an Iberostar hotel always provides its guests.
The hotel does engage in interesting activities to promote adventure tourism, such as windsurfing, kayaking, diving amid the most colorful reefs, beach tennis and water polo. It also offers an assortment of culinary services with Cuba's typical dishes, apart from entertaining shows and other traveler-oriented services.
Hours and Conditions
Check in

15:00 Hrs

Check out

12:00 Hrs

Conditions

Cancellations policy - Cancellations more than 10 days before the arrival day, no penalty will be applied. - Cancellations made with less than 10 days and up to 72 hours before the arrival day, a penalty corresponding to the price of one night in the reserved plan will be applied. - "No Shows" Will be applied a penalty corresponding to the amount of the first night of your intended stay.
Doble Room

65 m2

1 room

(View room facilities)

Standard Room

35 m2

316 rooms

(View room facilities)

Air Conditioning
Bathroom's amenities
Balcony or Terrace
Bathroom with bath/shower
Bedroom
Bedside tables
Children's welcome details
Connecting rooms
Crib (on request)
Direct phone line
Dressing table
Dressing table chair
Voltage(current):220 V/60 Hz
Extra bed (on request)
Free baby seating until 22:00 hrs(once per stay)
Furnishings in the Balcony
Furnishings in the Terrace
Garden views
Hairdryer
Juices & sweets
King-size or twin beds
Luggage rack
Minibar (restocked daily)
Non-smoking rooms
Pool views
Reading lamps
Remote control for TV
Rooms cleaned daily
Safety deposit box
Satellite TV
Suitable for wheelchairs
Telephone
Toys gift for kids
TV-minibar table
Welcome gift for adults (Bottle of Rum)
Welcome gift for children's

×

Mini Suite Room

35 m2

36 rooms

(View room facilities)

Air Conditioning
Bathroom's amenities
Balcony or Terrace
Bathrobes
Bathroom with bath/shower
Bedroom
Bedside tables
Crib (on request)
Dressing table
Dressing table chair
Voltage(current):220 V/60 Hz
Furnishings in the Balcony
Furnishings in the Terrace
Garden views
Hairdryer
King-size or twin beds
Luggage rack
Minibar (restocked daily)
Nightly turndown service
Pool views
Reading lamps
Remote control for TV
Rooms cleaned daily
Safety deposit box
Satellite TV
Telephone
TV-minibar table
Welcome details

×

---

Dining conditions

A variety of atmospheres and culinary options.
Opening and closing times may be subject to change (prior notice given).
Booking in advance and dress code required for dinners at specialized restaurants.
All meals (including 1 Buffet, 3 a la carte restaurants and snacks) are free.
Unlimited alcoholic and non-alcoholic beverages. (including some premium brands)
Choice of cocktails.
Snacks during the whole day.
Diet and vegetarian dishes (on request).
Live entertainment at some restaurants.
Continental breakfast and tea time service.
Some restaurants open for certain meals only.
Limited visits may apply to a la carte restaurants.
Time restrictions may apply (15 min).

Services and Facilities

($) Services with additional charge