Gran Hotel Manzana Kempinski La Habana

★

★

★

★

★
Calle San Rafael, e/ Monserrate y Zulueta, La Habana Vieja, La Habana, Cuba Zip Code: 10 100.. Tel.: (+53 7) 869 9100 (+53 7) 869 9102, (+53 7) 869 9138 / (+53 7) 869 9102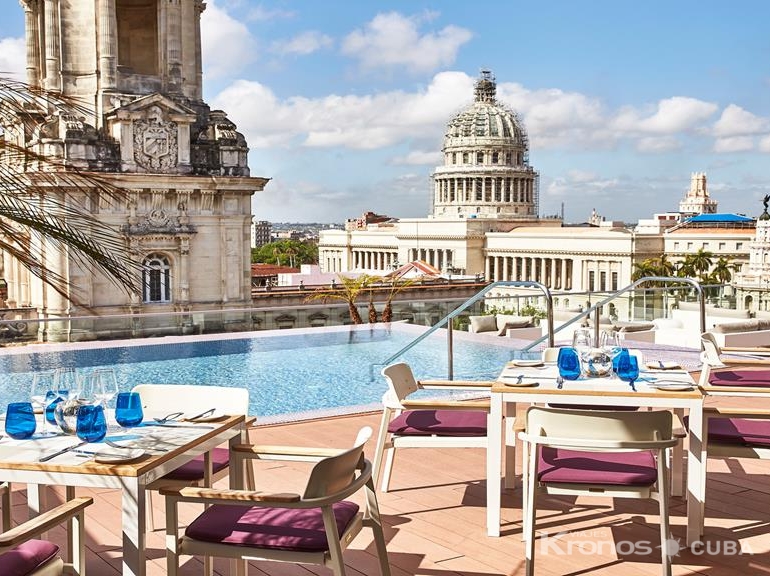 Authentic European Style in the Heart of Old Havana,
Originally built between 1894 and 1917 as the first European style shopping arcade in Cuba, Gran Hotel Manzana Kempinski La Habana is situated in the heart of the old Havana with a direct view of the Capitol and the Great Theatre of Havana and amidst UNESCO World Heritage sites. The famous Castillo del Morro is accessible within a 10 minute drive.
Experience the first true luxury hotel in Cuba and indulge yourself while staying in one of our 246 large rooms or suites with extra high ceilings and French windows opening out to the old city. Experience a variety of restaurants and bars, which also includes a one of a kind cigar lounge and a roof top Panoramic Restaurant and Bar with spectacular views over the old city. Relax in our spa, fitness center and rooftop pool.
Hours and Conditions
Check in

16:00 Hrs

Check out

12:00 Hrs
Deluxe Room

38 m2

103 rooms

(View room facilities)

Grand Deluxe Room

55 m2

22 rooms

(View room facilities)

Hemingway Junior Suite Room

50 m2

20 rooms

(View room facilities)

Constante Junior Suite Room

68 m2

3 rooms

(View room facilities)

Patio Suite Room

72 m2

6 rooms

(View room facilities)

Mezzanine Suite Room

64 m2

10 rooms

(View room facilities)

Esquina Suite Room

100 m2

10 rooms

(View room facilities)

Suite Precidential Lorca Room

150 m2

1 room

(View room facilities)

1 Two-seater sofa
2 Satellite LCD TV's
2 Seater sofa
Room's service 24 hrs
Air Conditioning
Amplifying mirror
Armchairs
Bathrobe and slippers
Bathroom's scales
Bathroom with bathtub and shower
Bathroom with jacuzzi
Bedroom
Bedside tables
Bidet
Blackout drapes
Breakfast area
Breakfast table
Butler service
Ceiling Fan
Central table
City views
Coffee and Tea Maker
Coffee tables
Concierge services
Crib (on request)
Daily coffee service
Desk/Working area
Digital safety deposit box
Dining room with kitchenette
Direct-dial telephone in bedroom & bathroom
Dressing table
Dressing table chair
Voltage(current):110 V/60 Hz
Voltage(current):220 V/60 Hz
Express check-in
Express check-in facilities
Extra bed (on request)
Guest's bathroom
Hairdryer
Hall
Hot/Cold water(24 hours)
Internet access $
Iron and ironing board
King Size Bed
Living room
Luggage rack
Bathroom's luxury amenities
Magnifying mirror
Minibar $
Non-smoking rooms
Private check-out
Reading chair
Reading lamps
Refrigerator
Remote control for TV
Romantic décor
Rooms cleaned daily
Superior category bathroom
TV-minibar table
Umbrellas
Vanity mirror
VIP amenities (daily)
Walk-in closet

×

Patio Room

38 m2

71 rooms

(View room facilities)

2 Armchairs
Bathroom with bathtub and shower
Bedroom
Bedside tables
Blackout drapes
Ceiling Fan
Closet
Coffee and Tea Maker
Digital safety deposit box
Dressing table
Dressing table chair
Voltage(current):110 V/60 Hz
Voltage(current):220 V/60 Hz
Facilities for disabled guests
Hairdryer
Hall
Hot/Cold water(24 hours)
Iron and ironing board
King-size or twin beds
LCD satellite TV/USB port
Luggage rack
Magnifying mirror
Minibar $
Non-smoking rooms
Patio view
Private bathroom
Reading lamps
Remote control for TV
Rooms cleaned daily
Telephone
TV-minibar table
Umbrellas
Vanity mirror
VIP amenities (daily)

×

---

Dining conditions

A variety of atmospheres and culinary options.
The menus and times of the restaurants and bars may be subject to change depending on the season and hotel occupancy.
Non-smoking areas.
Dress code (formal) in all restaurants.
The buffet service does not include beverages in the price.
Premium Brand Drinks.
24-hour room service ($).
Diet and vegetarian dishes (on request).
Live entertainment at some restaurants.

Services and Facilities

($) Services with additional charge