Gran Club Santa Lucía Hotel

★

★

★

★

★
Avenida Tararaco, Playa Santa Lucía, Nuevitas, Camagüey, Cuba. Postal Code: 74 250. Tel.: (+53 32) 33 6109 ext 514 / (+53 32) 36 5153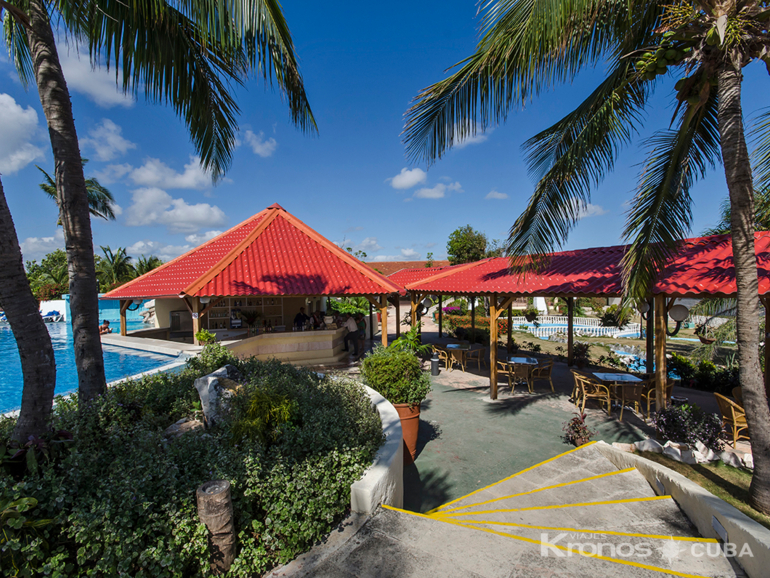 Roc Santa Lucía Hotel *** is located on the beachfront of Santa Lucía beach, with more than 20 kilometers of pristine beaches bathed by calm waters and the finest sand of an exotic beauty . Located on the widest sand strip of the destination in the province and only two kilometers away from the Coral Reef Barrier, one of the largest in the world that facilitates the practice of nautical sports and Underwater activities.
Its 252 rooms surrounded by palm trees and beautiful tropical gardens, the kindness and professionalism of the staff, an unique entertainment program, together with an exquisite and varied 24-hour All-Inclusive service makes it a perfect choice for family holidays, couples and honeymooners.
Its proximity to the locality of Santa Lucía allows the client to easily discover the lifestyle of Cuban life, markets, shops, restaurants, and places of leisure.
Hours and Conditions
Check in

16:00 Hrs

Check out

12:00 Hrs
Suite Room

(View room facilities)

Junior Suite Room

96 rooms

(View room facilities)

1 Two-seater sofa
2 Connecting spaces
2 Seater sofa
Air Conditioning
Bathroom's amenities
Balcony or Terrace
Bathroom with bath/shower
Bedroom
Bedside tables
Closet
Coffee tables
Dressing table
Dressing table chair
Voltage(current):110 V/60 Hz
Voltage(current):220 V/60 Hz
Furnishings in the Balcony
Furnishings in the Terrace
Hairdryer
Living room
Luggage rack
Minibar
Reading lamps
Remote control for TV
Rooms cleaned daily
Safety deposit box
Satellite TV
Telephone
TV-minibar table

×

Standard Room

144 rooms

(View room facilities)

2 Armchairs
Air Conditioning
Bathroom's amenities
Balcony or Terrace
Bathroom with shower
Bedroom
Bedside tables
Closet
Coffee tables
Connecting rooms
Dressing table
Dressing table chair
Voltage(current):110 V/60 Hz
Voltage(current):220 V/60 Hz
Garden views
Hairdryer
Luggage rack
Minibar
Reading lamps
Remote control for TV
Rooms cleaned daily
Safety deposit box
Satellite TV
Telephone
TV-minibar table

×

---

Dining conditions

A variety of atmospheres and culinary options.
The menus and times of the restaurants and bars may be subject to change depending on the season and hotel occupancy.
Non-smoking areas.
Reservations and dress code (formal) for dinner in the specialist restaurants.
Wines at lunch and dinner.
24 hours snacks and drinks service.
Unlimited alcoholic and non-alcoholic beverages.
Diet and vegetarian dishes (on request).
Live entertainment at some restaurants.

Services and Facilities

($) Services with additional charge