Hotel Cubanacan La Ermita

★

★

★

★

★
Km 1 ½ Carretera a La Emita, Viñales, Pinar del Río. Postal Code: 22 400. Tel.: (+53 48) 79 6122 / (+53 48) 79 6069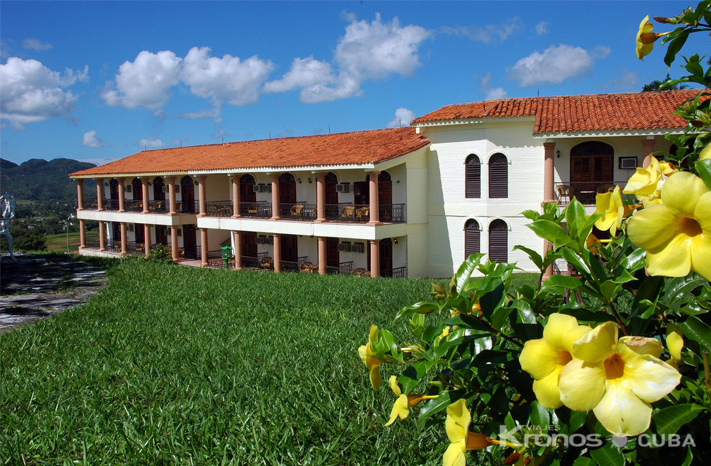 La Ermita Hotel, in Cuba's westernmost province of Pinar del Río, is a beautiful building that harmoniously blends into the breathtaking landscape of Viñales Valley. One km. south of town, La Ermita Hotel is magnificently nestled atop the southern scarp of the valley in Pinar del Río.
According to experts, this facility is an excellent option for nature lovers and those into eco-friendly travel, since the environment is closely linked to man's work on the land, especially tobacco crops. Guests can enjoy trekking on various specialized trails, where they can take a closer look at the local flora and fauna, especially birds and cork palms, considered a living fossil. Nature enthusiasts will find here the comfort required after a day exploring nature by visiting caverns and underwater rivers, watching the regional flora and fauna or just stopping at peasant communities; this hotel, without doubt, is placed in a natural paradise that will turn your Cuba vacation package into an unforgettable eco-tour of adventurous proportions.
Hours and Conditions
Check in

16:00 Hrs

Check out

12:00 Hrs

Conditions

Cancellations policy - Cancellations more than 10 days before the arrival day, no penalty will be applied. - Cancellations made with less than 10 days and up to 72 hours before the arrival day, a penalty corresponding to the price of one night in the reserved plan will be applied. - "No Shows" Will be applied a penalty corresponding to the amount of the first night of your intended stay.
Standard Room

50 rooms

(View room facilities)

2 Armchairs
Air Conditioning
Bathroom's amenities
Balcony
Bathroom with shower
Bedroom
Closet
Coffee tables
Connecting rooms
Dressing table
Dressing table chair
Voltage(current):110 V/60 Hz
Voltage(current):220 V/60 Hz
Extra bed (on request)
Furnishings in the Balcony
Hairdryer
Landscape views
Luggage rack
Minibar $
Reading lamps
Remote control for TV
Rooms cleaned daily
Safety deposit box
Satellite TV
Telephone

×

TROPICAL Room

12 rooms

(View room facilities)

2 Armchairs
Air Conditioning
Bathroom's amenities
Bathroom with shower
Bedroom
Bedside tables
Closet
Coffee tables
Dressing table
Dressing table chair
Voltage(current):110 V/60 Hz
Voltage(current):220 V/60 Hz
Extra bed (on request)
Furnishings in the Terrace
Hairdryer
Luggage rack
Minibar $
Pool views
Reading lamps
Remote control for TV
Rooms cleaned daily
Safety deposit box
Satellite TV
Telephone
Terrace
TV-minibar table

×

---

Dining conditions

A variety of atmospheres and culinary options.
The menus and times of the restaurants and bars may be subject to change depending on the season and hotel occupancy.
The buffet service does not include beverages in the price.
Live entertainment at some restaurants.

Services and Facilities

($) Services with additional charge