Horizontes Rancho San Vicente Hotel

★

★

★

★

★
Km 33, Carretera a Puerto Esperanza, Viñales, Pinar del Río. Postal Code: 22 400. Tel.: (+53 48) 79 6201 / (+53 48) 79 6265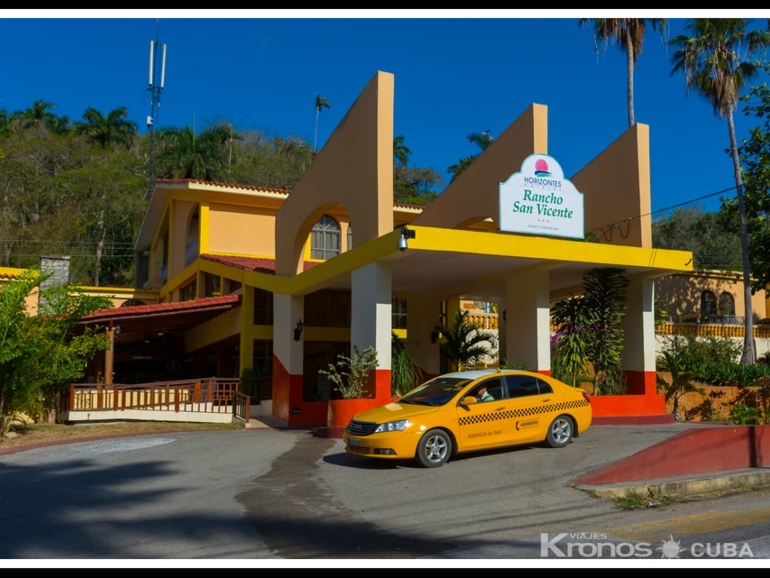 The Rancho San Vicente Hotel is located in Cuba's westernmost province, Pinar del Río, 38 kilometers away from the provincial capital. The facility is situated in the San Vicente Valley, on the banks of the river of the same name – rich in mineral-medicinal waters. Two hundred meters north of Cueva del Indio Cave, has traditionally specialized in therapeutic massage and spa treatments and offers a pleasing option following a total restoration.
From the hotel, guests can watch the local flora and fauna, visit caverns and underground rivers, and tour local rural communities. It is an excellent place for nature tourism.
Hours and Conditions
Check in

16:00 Hrs

Check out

12:00 Hrs

Conditions

Cancellations policy - Cancellations more than 10 days before the arrival day, no penalty will be applied. - Cancellations made with less than 10 days and up to 72 hours before the arrival day, a penalty corresponding to the price of one night in the reserved plan will be applied. - "No Shows" Will be applied a penalty corresponding to the amount of the first night of your intended stay.
CABIN

54 rooms

(View room facilities)

2 Armchairs
Air Conditioning
Amenities in the bathroom
Balcony or Terrace
Bathroom with shower
Bedroom
Bedside tables
Closet
Coffee tables
Dressing table
Dressing table chair
Electric current:110 V/60 Hz
Electric current:220 V/60 Hz
Furnishings in the Balcony
Furnishings in the Terrace
Garden views
Hot / Cold water (24 hours)
Luggage rack
Minibar $
Private bathroom
Reading lamps
Remote control for TV
Rooms cleaned daily
Safety deposit box $
Satellite TV
Sheets, blankets and towels
Telephone
TV-minibar table
Twin size beds
Vanity mirror

×

TROPICAL Room

22 rooms

(View room facilities)

2 Armchairs
Air Conditioning
Amenities in the bathroom
Balcony or Terrace
Bathroom with shower
Bedroom
Bedside tables
Closet
Coffee tables
Dressing table
Dressing table chair
Electric current:110 V/60 Hz
Electric current:220 V/60 Hz
Furnishings in the Balcony
Furnishings in the Terrace
Garden views
Hairdryer
Hot / Cold water (24 hours)
King-size or twin beds
Landscape views
Luggage rack
Minibar $
Non-smoking rooms
Private bathroom
Reading lamps
Remote control for TV
Rooms cleaned daily
Safety deposit box $
Satellite TV
Sheets, blankets and towels
Telephone
TV-minibar table
Vanity mirror

×

---

Dining conditions

A variety of atmospheres and culinary options.
The menus and times of the restaurants and bars may be subject to change depending on the season and hotel occupancy.
The buffet service does not include beverages in the price.
Live entertainment at some restaurants.

Services and Facilities

($) Services with additional charge