Cubanacan Club Acuario Hotel

★

★

★

★

★
Calle 248 y 5ta Avenida, Santa Fe, Playa, Havana. Cuba. Postal Code: 11 300. Tel.: (+53 7) 204 7628/33 / (+53 7) 204 4379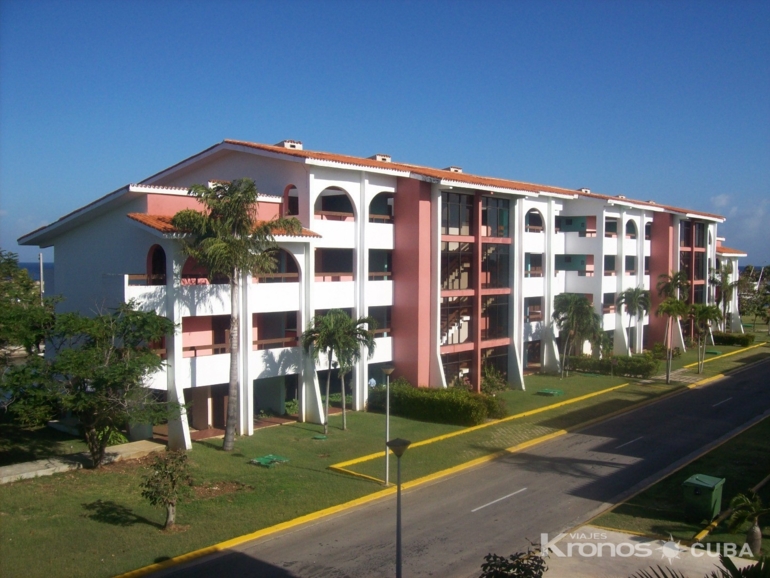 Club Acuario Hotel is located in Marina Hemingway Tourist Community, in the western area of Havana and close to Havana International Conference Center. Access to the hotel is easy, only 15 km. from Havana's International Airport and a 30-minute drive from downtown.
A three-star facility, it offers a wide range of options, affording it the distinction and exclusivity of being the only all-inclusive hotel in Havana. Your eco-friendly vacations can certainly have some room here as you put together your next holiday package to Cuba.
Hours and Conditions
Check in

16:00 Hrs

Check out

12:00 Hrs

Conditions

Cancellations policy - Cancellations more than 10 days before the arrival day, no penalty will be applied. - Cancellations made with less than 10 days and up to 72 hours before the arrival day, a penalty corresponding to the price of one night in the reserved plan will be applied. - "No Shows" Will be applied a penalty corresponding to the amount of the first night of your intended stay.
Junior Suite Room

2 rooms

(View room facilities)

1 Two-seater sofa
2 Armchairs
2 Satellite TVs
2 Seater sofa
Air Conditioning
Bathroom's amenities
Balcony
Bathroom with bath/shower
Bedroom
Bedside tables
Closet
Coffee tables
Dressing table
Dressing table chair
Voltage(current):220 V/60 Hz
Extra bed (on request)
Furnishings in the Balcony
Hairdryer
King Size Bed
Living room
Luggage rack
Marina views
Minibar
Reading lamps
Remote control for TV
Rooms cleaned daily
Safety deposit box
Sea views
Telephone
TV-minibar table

×

Standard Room

128 rooms

(View room facilities)

Air Conditioning
Bathroom's amenities
Balcony or Terrace
Bathroom with bath/shower
Bedroom
Bedside tables
Closet
Coffee tables
Connecting rooms
Dressing table
Dressing table chair
Voltage(current):220 V/60 Hz
Extra bed (on request)
Furnishings in the Balcony
Furnishings in the Terrace
Hairdryer
King-size or twin beds
Luggage rack
Marina views
Minibar
Reading lamps
Remote control for TV
Rooms cleaned daily
Safety deposit box
Satellite TV
Telephone
TV-minibar table

×

TROPICAL Room

(View room facilities)

Air Conditioning
Amenities in the bathroom
Balcony or Terrace
Bathroom with shower
Bedroom
Bedside tables
Closet
Dressing table
Dressing table chair
Electric current:220 V/60 Hz
Extra bed (on request)
Furnishings in the Balcony
Furnishings in the Terrace
Hot / Cold water (24 hours)
King-size or twin beds
Minibar $
Private bathroom
Reading lamps
Remote control for TV
Rooms cleaned daily
Satellite TV
Sea views
Sheets, blankets and towels
Telephone
Vanity mirror

×

---

Dining conditions

A variety of atmospheres and culinary options.
The menus and times of the restaurants and bars may be subject to change depending on the season and hotel occupancy.
Non-smoking areas.
Dress code (formal) in all restaurants.
Diet and vegetarian dishes (on request).
Live entertainment at some restaurants.

Services and Facilities

($) Services with additional charge