Starfish Montehabana Aparthotel

★

★

★

★

★
Calle 70 e/ 5ta A y 7ma. Ave, Miramar, Playa, La Habana, Cuba. Postal Code: 11 300. Tel.: (+53 7) 206 9595 / (+53 7) 206 9912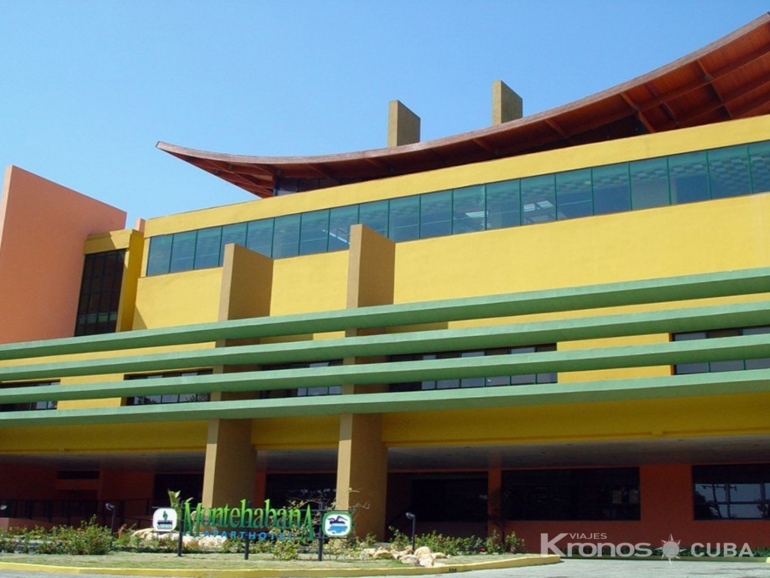 The Aparthotel Montehabana is a modern hotel settledwithin a quiet area in the residential area of Miramar, Havana City west side.The apartments have small fully- equipped kitchen, living room, spacious bedroom, balcony and there are also large standard hotel rooms.
By booking and combining a one bedroom apartment with a connecting standard room it is possible to obtain a two bedroom apartment.All the guests of the hotel are welcome to use the services and restaurants at the neighboring Hotel Occidental Miramar which also provides a large and beautiful pool at just a few meters away from the backdoors.
Hours and Conditions
Check in

15:00 Hrs

Check out

12:00 Hrs

Conditions

- The Aparthotel Montehabana is also close to the Memories Miramar Havana Hotel allows enjoying the services and facilities.
Junior Suite Room

65 m2

1 room

(View room facilities)

Standard Superior

65 m2

1 room

(View room facilities)

Standard Room

76 rooms

(View room facilities)

2 Armchairs
Air Conditioning
Bathroom's amenities
Balcony
Bathroom with bath/shower
Bedroom
Bedside tables
Blackout drapes
Closet
Coffee tables
Direct-dial telephone in bedroom
Dressing table
Dressing table chair
Voltage(current):220 V/60 Hz
Furnishings in the Balcony
Garden views
Hairdryer
Iron and ironing board
King-size or twin beds
Luggage rack
Minibar $
Private climate control
Reading lamps
Remote control for TV
Rooms cleaned daily
Safety deposit box
Satellite TV
Telephone
TV-minibar table
Wi-Fi in hotel room's ($)

×

STUDIO Apartment

13 rooms

(View room facilities)

2 Armchairs
Air Conditioning
Bathroom's amenities
Balcony
Bathroom with bath/shower
Bedroom
Bedside tables
Blackout drapes
Closet
Coffee and Tea Maker
Coffee tables
Dining room area
Direct-dial telephone in bedroom
Dressing table
Dressing table chair
Voltage(current):220 V/60 Hz
Fully equipped kitchen
Furnishings in the Balcony
Garden views
Glass-top cooker with two burners
Glassware
Hairdryer
Iron and ironing board
King-size or twin beds
Kitchen
Luggage rack
Minibar $
Private climate control
Reading lamps
Remote control for TV
Rooms cleaned daily
Safety deposit box
Satellite TV
Set meal
Telephone
Toaster
TV-minibar table
Wi-Fi in hotel room's ($)

×

1 BEDROOM Apartment

75 rooms

(View room facilities)

4 Chairs
Air Conditioning
Bathroom's amenities
Balcony
Bathroom with bath/shower
Bedroom
Bedside tables
Blackout drapes
Central table
Coffee and Tea Maker
Coffee tables
Dining room
Direct-dial telephone in bedroom
Dressing room
Dressing table
Dressing table chair
Voltage(current):220 V/60 Hz
Fully equipped kitchen
Furnishings in the Balcony
Garden views
Glass-top cooker with two burners
Glassware
Hairdryer
Iron and ironing board
King-size or twin beds
Kitchen
Living room
Luggage rack
Microwave
Minibar $
Private climate control
Reading lamps
Remote control for TV
Rooms cleaned daily
Safety deposit box
Satellite TV
Set meal
Telephone
Toaster
TV-minibar table
Wi-Fi in hotel room's ($)

×

---

Dining conditions

A variety of atmospheres and culinary options.
The menus and times of the restaurants and bars may be subject to change depending on the season and hotel occupancy.
Non-smoking areas.
Dress code (formal) in all restaurants.
The buffet service does not include beverages in the price.
Premium Brand Drinks.
Diet and vegetarian dishes (on request).
Live entertainment at some restaurants.

Services and Facilities

($) Services with additional charge