Coral Level at Iberostar Selection Ensenachos Hotel - Adults Only Over 14 Years Old

★

★

★

★

★
Cayo Ensenachos, Caibarién, Villa Clara, Cuba. Zip Code: 52 610.. Tel.: (+53 42) 35 0300 /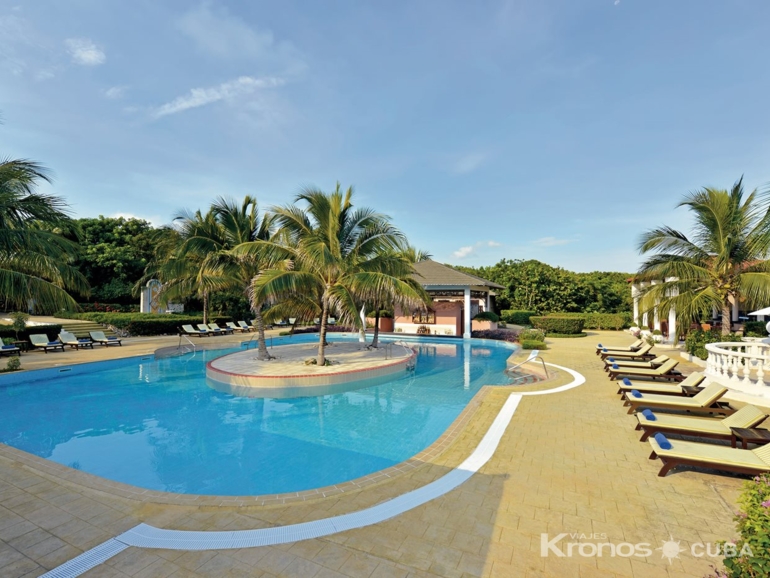 A minimum of 3 night stay is required!
The adults-only Coral Level at Iberostar Selection Ensenachos, a boutique-style resort located in a private cay on the stunning white-sand beaches of Cayo Santa María. This hideaway for guests over 14 years old, you will wake up in the morning knowing that your dream continues. Ensenachos beach, in front of you, is waiting to reveal its best secrets: not only is the color of the water special, but the submerged coral reefs are among the most important in the world, the Coral Level villas that make up this section of the hotel represent the greatest luxury: living room, kitchen, terrace with Jacuzzi and extra quality in every detail. You will also be surrounded by green thanks to the intact nature of this small Cuban key. And if this were not enough, the exclusive atmosphere of this area is completed with butler service, a private pool and a gourmet restaurant, without giving up the 5-star facilities of the Iberostar Selection Ensenachos hotel.
Hours and Conditions
Check in

16:00 Hrs

Check out

12:00 Hrs

Conditions

CLIENT GUARANTEES AND RIGHTS OF THE OPERATOR AND THE HOTEL WITH REGARDS TO RESERVATIONS, CANCELLATIONS AND NO SHOWS. NO SHOWS.
CORAL VILLAGE 2 ROOMS

143 m2

16 rooms

(View room facilities)

2 Bedrooms
2 Entrances
2 Queen size beds
2 Twin beds
A separate living room with TV
Air Conditioning
AM / FM Clock Radio
Amenities in the bathroom
Amenities SELECT
Armchairs
Balcony or Terrace
Bathroom with hydromassage
Bedside tables
Coffee and Tea Maker
Coffee tables
Electric current:110 V/60 Hz
Electric current:220 V/60 Hz
Electronic safety deposit box
Exclusive entrance
Furnishings in the Balcony
Furnishings in the Terrace
Garden views
Hairdryer
Hot / Cold water (24 hours)
Iron and ironing board
King Size Bed
Kitchenette
Late check-out is based on availability
Laundry service
LCD TV
LCD TV in the lounge
Living area
Manual temperature control
Minibar
Minibar (restocked daily)
Music TV channel
Newspapers
Private bathroom
Private check-in with sparkling wine
Reading lamps
Remote control for TV
Rooms cleaned daily
Satellite flat TV
Satellite flat TV/USB port
Satellite LCD TV
Satellite TV
Telephone
Terrace
Umbrellas
Vanity mirror
Welcome cocktail
Welcome details

×

CORAL VILLAGE

123 m2

30 rooms

(View room facilities)

A separate living room with TV
Air Conditioning
AM / FM Clock Radio
Amenities in the bathroom
Armchairs
Bathrobe and slippers
Bathroom with bath/shower
Bathroom with hydromassage
Bathroom with shower
Bathtub
Bedroom/lounge
Bedside tables
Check-out facilities
Dressing table
Dressing table chair
Early check-in
Electric current:110 V/60 Hz
Electric current:220 V/60 Hz
Express check-in
Express check-in facilities
Furnishings in the Terrace
Hairdryer
Iron and ironing board
Jacuzzi on the terrace
King Size Bed
Kitchenette
Late check-out
Late check-out is based on availability
Laundry service
LCD satellite TV/USB port
LCD TV
LCD TV in the lounge
Living area
Living-dining room
Lounge-bedroom
Luggage rack
Minibar (restocked daily)
Music TV channel
Newspapers
Personalised check-in
Personalised check-out
Pillow menu, bathrobe and slippers
Private bathroom
Private check-in with sparkling wine
Private check-in with sparkling wine and wet wipes
Private check-out
Reading lamps
Remote control for TV
Rooms cleaned daily
Safety deposit box
Satellite TV
Sheets, blankets and towels
Tables on the terrace
Telephone
Terrace
Terrace with balinese bed
Terrace with loungers and hammock
Umbrellas
Vanity mirror
Welcome cocktail
Welcome details
Wi-Fi connection

×

---

Dining conditions

A variety of atmospheres and culinary options.
Opening and closing times may be subject to change (prior notice given).
Booking in advance and dress code required for dinners at specialized restaurants.
Unlimited alcoholic and non-alcoholic beverages.
Choice of cocktails.
Snacks during the whole day.
Diet and vegetarian dishes (on request).
Live entertainment at some restaurants.
Continental breakfast and tea time service
Mediterranean Restaurant (this one only for adults, we provide child care service).
For All Inclusive-Guests in this Hotel there is self-service for drinks in the Buffet-Restaurant and in the Bar.

Services and Facilities

($) Services with additional charge