Habaguanex Marqués de Cárdenas de Montehermoso Hotel

★

★

★

★

★
Calle Oficios, No. 110, Plaza de San Francisco Asis, Habana Vieja, La Habana, Cuba. Zip Code: 10 100.. Tel.: (+53 7) 801 2293 / (+53 7) 823 2800 /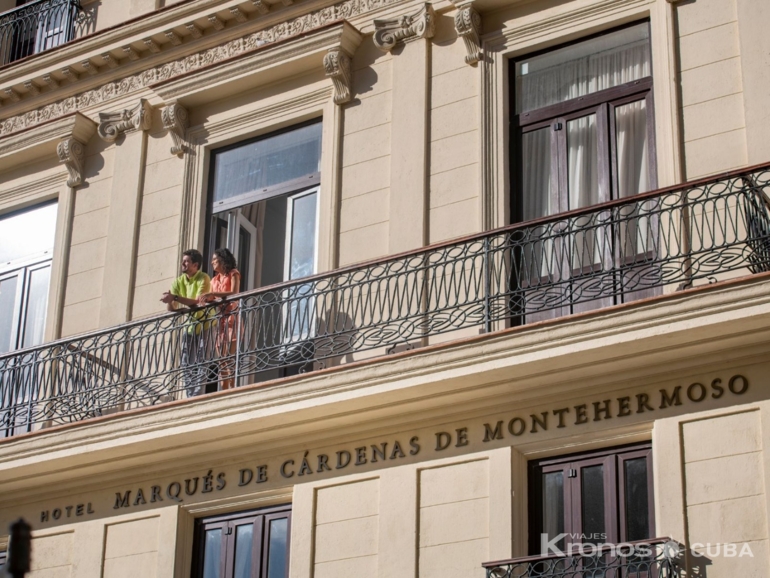 The colletive transfer from International Airport Jose Marti to the hotel is included. Please, contact us and let us know your arrival flight details in order to book properly this service for you.
Glories of yesteryear the Marqués de Cárdenas de Montehermoso are being intervened and will be reopened into luxury accommodations of Habaguanex, in the Historic Center of Havana. Successively, until 2021 actions will be added to celebrate the 500th anniversary of the founding of the Villa de San Cristóbal de La Habana.
Marqués de Cárdenas de Montehermoso, a luxurious 5-star hotel is located in Offices 110 next to the Plaza de San Francisco, one of the main squares of Old Havana. The location is simply spectacular; You will be just 5 minutes walk from the sea and the cruise terminal, with an incredible view of the bay of Havana and the fortress of El Morro.
In the preliminary design it has 21 rooms, including a Colonial Suite plus a Presidential Room, a Lobby Bar, an interior patio and art galleries.
Hours and Conditions
Check in

16:00 Hrs

Check out

12:00 Hrs
SUPERIOR Room

1 room

(View room facilities)

2 Personal beds
Air Conditioning
Bathroom's amenities
Armchairs
Bedside tables
Electric current:110 V/60 Hz
Electric current:220 V/60 Hz
Hairdryer
Hot / Cold water (24 hours)
Magnifying mirror
Minibar $
Private bathroom
Queen size beds
Reading lamps
Rooms cleaned daily
Safety deposit box
Satellite flat TV
TV-minibar table
Vestibule-hall
Wi-Fi connection

×

Standard Room

19 rooms

(View room facilities)

Air Conditioning
Amenities in the bathroom
Amenities SELECT
Armchairs
Bathroom with bath/shower
Bedroom/lounge
Bedside tables
City views
Closet
Dressing table chair
Electric current:110 V/60 Hz
Electric current:220 V/60 Hz
Furnishings in the Balcony
Hairdryer
Hot/Cold water(24 hours)
Iron and ironing board
King Size Bed
LCD TV
Luggage rack
Minibar
Music TV channel
Newspapers
Private bathroom
Reading lamps
Remote control for TV
Room service
Rooms cleaned daily
Sheets, blankets and towels
Sofa-lounge
Telephone
Umbrellas
Vanity mirror
Wi-Fi connection

×

Junior Suite Room

1 room

(View room facilities)

Air Conditioning
Amenities in the bathroom
Amenities SELECT
Armchairs
Bathroom with bath/shower
Bedroom/lounge
Bedside tables
City views
Closet
Dressing table chair
Electric current:110 V/60 Hz
Electric current:220 V/60 Hz
Furnishings in the Balcony
Hairdryer
Hot/Cold water(24 hours)
Iron and ironing board
King Size Bed
LCD TV
Luggage rack
Minibar
Music TV channel
Newspapers
Private bathroom
Reading lamps
Remote control for TV
Room service
Rooms cleaned daily
Sheets, blankets and towels
Sofa-lounge
Telephone
Umbrellas
Vanity mirror
Wi-Fi connection

×

---

Dining conditions

A variety of atmospheres and culinary options.
The menus and times of the restaurants and bars may be subject to change depending on the season and hotel occupancy.
Non-smoking areas.
Dress code (formal) in all restaurants.
The buffet service does not include beverages in the price.
Premium Brand Drinks.
Diet and vegetarian dishes (on request).
Live entertainment at some restaurants.

Services and Facilities

($) Services with additional charge