Encanto San Félix Hotel

★

★

★

★

★
Calle Enramadas, Esq. San Felix (Hartmann), Santiago de Cuba, Cuba. Zip Code: 90 100.. Tel.: (+53 22) 68 7171 / (+53 22) 68 7162 / (+53 22) 68 7158 / (+53 22) 68 7142 /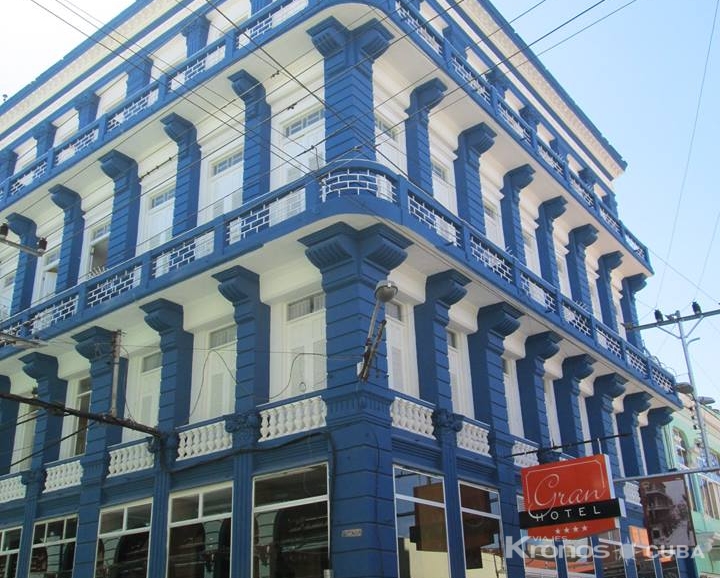 Iberostar San Felix Hotel is a 4 **** located in Enramadas, the main artery Santiago de Cuba trade. Next to the emblematic Hotel Casa Granda and hotels E Imperial and San Basilio is part of a company belonging to Complex IBEROSTAR Santiago de Cuba. From its vantage point, it is a reference point for those visiting the tourist resort and who want to feel the throbbing of city life into the old town. Close to many places of high tourist and cultural value, such as Céspedes Park, the Casa de la Trova, the Museum of Historical Environment (Casa de Diego Velázquez), Holy Metropolitan Basilica Cathedral Church, the Emilio Bacardí Museum, Government House Municipal, Dolores Concert Hall and the House of Music. Enramadas main entrance, is representative of Chicago style with eclectic and remarkable neoclassical influence elements. It occupies an area of ​​664.96 square meters and has 4 levels. The inherent characteristics of the Gran Hotel E generate a great mobile for visitors interested in history, culture and society santiaguera, who will enjoy a comfortable stay in a hospitable and welcoming atmosphere.
Hours and Conditions
Check in

16:00 Hrs

Check out

12:00 Hrs

Conditions

Cancellations policy - Cancellations more than 10 days before the arrival day, no penalty will be applied. - Cancellations made with less than 10 days and up to 72 hours before the arrival day, a penalty corresponding to the price of one night in the reserved plan will be applied. - "No Shows" Will be applied a penalty corresponding to the amount of the first night of your intended stay.
Junior Suite Room

51 m2

3 rooms

(View room facilities)

1 Two-seater sofa
2 Armchairs
2 Seater sofa
Air Conditioning
AM / FM Clock Radio
Bathroom's amenities
Amplifying mirror
Balcony
Bathroom with bath/shower
Bedroom
Bedside tables
Blackout drapes
Ceiling Fan
City views
Closet
Coffee tables
Dressing table
Dressing table chair
Voltage(current):110 V/60 Hz
Voltage(current):220 V/60 Hz
Hairdryer
Hot/Cold water(24 hours)
Iron and ironing board
King Size Bed
Living area
Minibar $
Private bathroom
Radio/Alarm clock
Reading lamps
Remote control for TV
Rooms cleaned daily
Safety deposit box $
Satellite TV
Sheets, blankets and towels
Telephone
TV-minibar table
Vanity mirror

×

Standard Room

26 m2

39 rooms

(View room facilities)

2 Armchairs
2 Twin beds
Air Conditioning
Bathroom's amenities
Balcony
Bathroom with bath/shower
Bathroom with shower
Bedroom
Bedside tables
Blackout drapes
Closet
Coffee tables
Garden views
Hot and cold water
Reading lamps
Remote control for TV
Rooms cleaned daily
Satellite TV
Sheets, blankets and towels

×

SUPERIOR Room

36 m2

1 room

(View room facilities)

Air Conditioning
Amenities in the bathroom
Armchairs
Balcony
Bathroom with bath/shower
Bedroom
Bedside tables
City views
Closet
Coffee tables
Dressing table
Dressing table chair
Electric current:110 V/60 Hz
Electric current:220 V/60 Hz
Hairdryer
Hot and cold water
King-size or twin beds
Luggage rack
Minibar $
Private bathroom
Reading lamps
Remote control for TV
Rooms cleaned daily
Safety deposit box $
Satellite TV
Sheets, blankets and towels
Telephone
TV-minibar table
Vanity mirror

×

Studio

1 room

(View room facilities)

Air Conditioning
Bathroom's amenities
Armchairs
Bathroom with bath/shower
Bedroom
Bedside tables
Closet
Coffee tables
Dressing table
Dressing table chair
Electric current:110 V/60 Hz
Electric current:220 V/60 Hz
Hairdryer
Hot and cold water
King-size or twin beds
Luggage rack
Minibar $
Private bathroom
Reading lamps
Remote control for TV
Rooms cleaned daily
Safety deposit box $
Satellite TV
Sheets, blankets and towels
Telephone
TV-minibar table
Vanity mirror

×

---

Dining conditions

A variety of atmospheres and culinary options.
The menus and times of the restaurants and bars may be subject to change depending on the season and hotel occupancy.
Diet and vegetarian dishes (on request).
Live entertainment at some restaurants.

Services and Facilities

GENERALS

Fax services ($)
Taxis services ($)
Non-smoking rooms
24 hrs Internal security staff
Pets not allowed
Local excursions ($)
Bureau de change ($)
1 Lift/elevator
Early check-in ($)
Late check-out ($)
No credit cards issued by US banks accepted
Air-conditioned lobby
Cool lobby
Staff speaks: Spanish & English
Quiet atmosphere
Solarium
Cultural boulevard
24 hrs Reception service
Tourist bureau ($)
Wake-up service
Parking lot ($)
WI-FI in the hotel
Strategically situated
Jeep Safaris ($)
Old cars tours ($)
Day charter excursions ($)
Public telephone ($)

($) Services with additional charge