Roc Casa del Mar

★

★

★

★

★
Cayo Santa María - CP: 52610 - Municipio Caibarién Provincia Villa Clara, Cuba. Tel.: +53 42 350850 /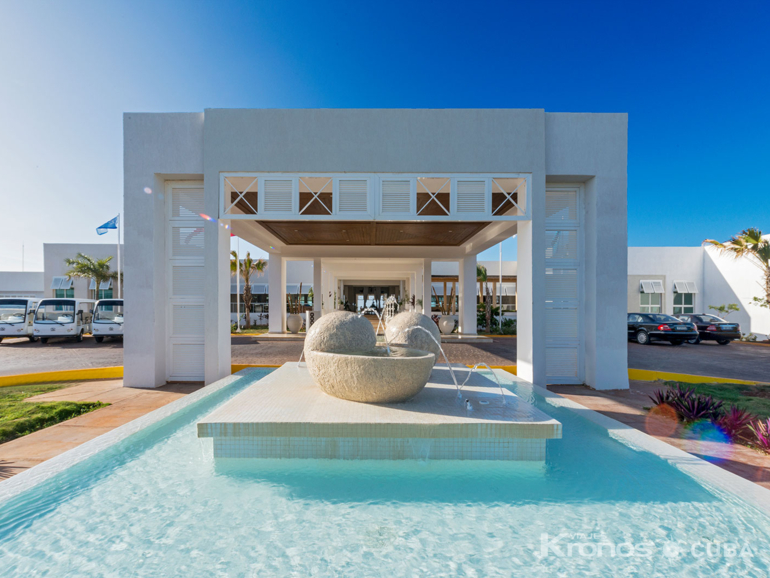 A minimum of 4 night stay is required!
The hotel is located on the beachfront in Cayo Santa María, an islet located in Buena Vista Bay, in northern Cuba, an area declared by UNESCO as a Biosphere Reserve. Also known as "the White Rose of the King's Gardens", Cayo Santa María has 10 km of paradisiacal beaches of fine sand and turquoise waters.
Its 800 spacious rooms are distributed among 784 standard (Deluxe), 8 Suites and 8 adapted for people with reduced mobility. All of them stand out for their maximum comfort and modernity, in addition to the beautiful views of the surroundings, starting from the central building, and are located in a natural and welcoming environment. All types of rooms are equipped with the necessary services for the maximum enjoyment, rest and relaxation of the guests.
Hours and Conditions
Check in

16:00 Hrs

Check out

12:00 Hrs

Conditions

CLIENT GUARANTEES AND RIGHTS OF THE OPERATOR AND THE HOTEL WITH REGARDS TO RESERVATIONS, CANCELLATIONS AND NO SHOWS. NO SHOWS. Early departure, a penalty corresponding to 100% of the entire stay is applied as cancellation fees. Cancellations made less than 05 days before arrival and no show, a penalty corresponding to 2 nights stay applies as cancellation fees.
Standard Room

(View room facilities)

2 Armchairs
Air Conditioning
Amenities in the bathroom
Balcony or Terrace
Ceiling Fan
Coffee and Tea Maker
Hairdryer
Hot / Cold water (24 hours)
Minibar
Safety deposit box
Satellite TV

×

DELUXE POOL VIEW Room

(View room facilities)

2 Armchairs
Air Conditioning
Amenities in the bathroom
Balcony or Terrace
Ceiling Fan
Coffee and Tea Maker
Hairdryer
Iron and ironing board
Minibar
Safety deposit box
Satellite TV

×

Standard Room Sea view

(View room facilities)

2 Armchairs
Amenities in the bathroom
Balcony or Terrace
Ceiling Fan
Coffee and Tea Maker
Hairdryer
King Size Bed
Minibar
Private bathroom
Safety deposit box
Satellite TV

×

Deluxe Privilege

(View room facilities)

2 Armchairs
Air Conditioning
Amenities in the bathroom
Balcony or Terrace
Ceiling Fan
Coffee and Tea Maker
Hairdryer
Hot / Cold water (24 hours)
Hydromassage tub
Iron and ironing board
Minibar
Private bathroom
Remote control for TV
Room service(7am to 11pm)

×

Deluxe Privilege Ocean View

(View room facilities)

2 Armchairs
Air Conditioning
Amenities in the bathroom
Balcony or Terrace
Ceiling Fan
Coffee and Tea Maker
Hairdryer
Hot / Cold water (24 hours)
Hydromassage tub
Iron and ironing board
Minibar
Ocean views
Private bathroom
Remote control for TV
Room service(7am to 11pm)
Vanity mirror

×

Excelsior Club Room

8 rooms

(View room facilities)

Air Conditioning
Amenities in the bathroom
Amplifying mirror
Armchairs
Balcony or Terrace
Bathrobe and slippers
Bathroom with bathtub and shower
Bathroom with hydromassage
Ceiling Fan
Coffee and Tea Maker
Hairdryer
Hot / Cold water (24 hours)
Hydromassage tub
Iron and ironing board
Living area
Minibar
Private bathroom
Remote control for TV
Safety deposit box
Satellite TV

×

Suite Privilege

(View room facilities)

Air Conditioning
Bathroom's amenities
Armchairs
Balcony or Terrace
Bathrobe and slippers
Bathroom with bathtub and shower
Ceiling Fan
Coffee and Tea Maker
Hairdryer
Hot / Cold water (24 hours)
Hydromassage tub
Iron and ironing board
Living area
Minibar
Private bathroom
Remote control for TV
Satellite TV
Telephone

×

Cocotal Restaurant

International cuisine

Daily.

Blue Moon - 18 years old and more Restaurant

Gourmet cuisine

Daily.

Limoncello Restaurant

Italian cuisine

Daily.

Origami Restaurant

Oriental cuisine

Daily.

Boca Marina Restaurant

Mediterranean cuisine

Daily.

Neptuno Restaurant

Seafood cuisine

Daily.

Compay Restaurant

Cuban cuisine

Daily.

El Ranchón Playa Concha Restaurant

International cuisine

In the beach area

Daily.

Risco Lobby bar

Beverages service wide selection of domestic and international brands

In the lobby area

Daily.

Alegría Bar

Beverages service wide selection of domestic and international brands

Daily.

Sport Bar Latino Bar

Beverages service wide selection of domestic and international brands

Daily.

Aqua Bar Este y Aqua Bar Oeste Aqua bar (Swim-up bar)

Beverages service

In the pool area

Daily.

Snack Bar Este y Snack Bar Oeste Snack bar

Snacks and beverages service

In the pool area

Daily.

Playa (Central, Este y Oeste) Beach bar

Beverages service

In the beach area

Daily.

El Ranchón Playa Beach bar

Beverages and snacks

In the beach area

Daily.

Privilege Lounge bar

Beverages service wide selection of domestic and international brands

In the royal service area

Daily.

---

Dining conditions

A variety of atmospheres and culinary options.
The menus and times of the restaurants and bars may be subject to change depending on the season and hotel occupancy.
Non-smoking areas.
Reservations and dress code (formal) for dinner in the specialist restaurants.
Unlimited alcoholic and non-alcoholic beverages.
Diet and vegetarian dishes (on request).

Services and Facilities

($) Services with additional charge