NH Capri Hotel

★

★

★

★

★
Calle 21, e/ N y O, Vedado, Plaza de la Revolución, Havana, Cuba. Postal Code: 10 400. Tel.: (+53 7) 839 7200 /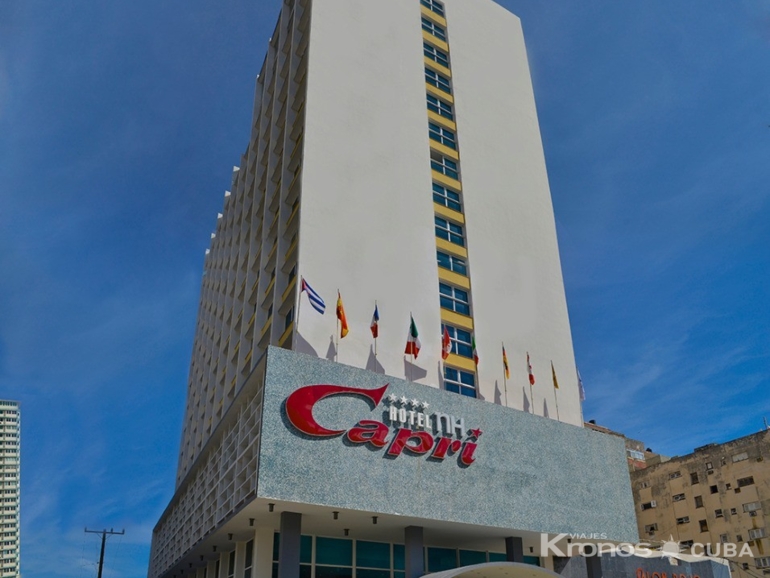 This Hotel, located right in the heart of Havana downtown and just meters walk to the popular city seafront, has been recently fully renewed, in accordance with the contemporary tendencies without losing its original architectural look.
Keeping its charm as back in the 50´s, its comfort and functionality, This Hotel is ideal for business men, incentive groups, holidaymakers and honeymooners.
Rates include: • Welcome cocktail. • Bottle of water (500 ml) per room per stay. • 1 internet card (WIFI) per person of 1 hour stay.
Hours and Conditions
Check in

14:00 Hrs

Check out

12:00 Hrs
SEA VIEW Standard Room

(View room facilities)

SUPERIOR Room

33 m2

6 rooms

(View room facilities)

2 Connecting spaces
2 Seater sofa
Air Conditioning
Bathroom's amenities
Bathroom with bath/shower
Bedroom
Bedside tables
City views
Closet
Coffee tables
Connecting rooms
Crib (on request)
Direct-dial telephone in bedroom
Voltage(current):220 V/60 Hz
Hairdryer
King-size or twin beds
Living room
Luggage rack
Magnifying mirror
Minibar $
Reading lamps
Remote control for TV
Rooms cleaned daily
Safety deposit box
Satellite LCD TV
Sea views
TV-minibar table
Wi-Fi Internet connection $

×

Suite Room

70 m2

2 rooms

(View room facilities)

2 Satellite LCD TV's
2 Seater sofa
Air Conditioning
Balcony
Bathroom with bath/shower
Bathtub with hydromassage
Bedroom
Bedside tables
City views
Closet
Coffee tables
Crib (on request)
Direct-dial telephone in bedroom
Voltage(current):220 V/60 Hz
Extra bed (on request)
Furnishings in the Balcony
Hairdryer
King Size Bed
Living room
Lounge
Luggage rack
Bathroom's luxury amenities
Magnifying mirror
Minibar $
Reading lamps
Remote control for TV
Rooms cleaned daily
Sea views
TV-minibar table
Wi-Fi Internet connection $

×

DUPLEX CAPRI Room

65 m2

10 rooms

(View room facilities)

2 Seater sofa
Air Conditioning
Bathroom's amenities
Bathroom with bath/shower
Bedroom
Bedside tables
City views
Coffee tables
Crib (on request)
Direct-dial telephone in bedroom
Voltage(current):220 V/60 Hz
Hairdryer
King Size Bed
Living room
Luggage rack
Magnifying mirror
Minibar $
Reading lamps
Remote control for TV
Rooms cleaned daily
Safety deposit box
Satellite LCD TV
TV-minibar table
Two stories
Wi-Fi Internet connection $

×

Junior Suite Room

52 m2

10 rooms

(View room facilities)

2 Seater sofa
Air Conditioning
Bathroom's amenities
Bathroom with bath/shower
Bedroom
Bedside tables
City views
Closet
Coffee tables
Connecting rooms
Crib (on request)
Direct-dial telephone in bedroom
Voltage(current):220 V/60 Hz
Extra bed (on request)
Hairdryer
King Size Bed
Living room
Lounge
Luggage rack
Magnifying mirror
Minibar $
Reading lamps
Remote control for TV
Rooms cleaned daily
Safety deposit box
Satellite LCD TV
TV-minibar table
Wi-Fi Internet connection $

×

Standard Room

27 m2

192 rooms

(View room facilities)

Air Conditioning
Bathroom's amenities
Bathroom with bath/shower
Bedroom
Bedside tables
City views
Closet
Connecting rooms
Crib (on request)
Direct-dial telephone in bedroom
Voltage(current):220 V/60 Hz
Facilities for disabled guests
Hairdryer
King-size or twin beds
Luggage rack
Magnifying mirror
Minibar $
Reading lamps
Remote control for TV
Rooms cleaned daily
Safety deposit box
Satellite LCD TV
Sea views
Suitable for wheelchairs
TV-minibar table
Wi-Fi Internet connection $

×

---

Dining conditions

A variety of atmospheres and culinary options.
Diet and vegetarian dishes (on request).
Live entertainment at some restaurants.

Services and Facilities

($) Services with additional charge