Roc Presidente Hotel

★

★

★

★

★
Calzada, No. 110 Esq, Av. de los Presidentes, Vedado, Plaza de la Revolución, Havana, Cuba. Postal Code: 10 400. Tel.: Reservas: +53 7 8381801 ext. 110/112; Comercial: +53 7 8382956; +53 53304383; / Dirección: +53 7 8362855, +53 5721333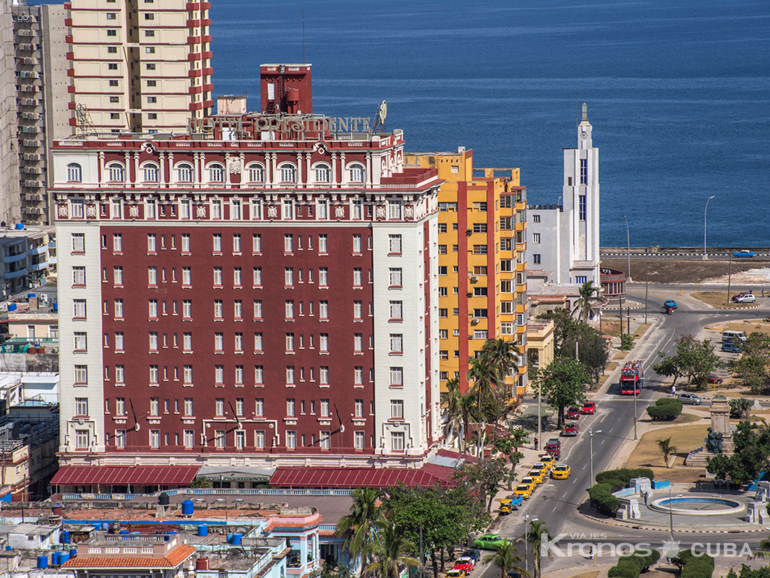 The Hotel Roc Presidente **** is located in the area of Vedado, on the famous Avenida de los Presidentes and flanked by the Cuban Chancellery and the House of the Americas, where the President Hotel gracefully raises its 10 Story Floors with its peculiar colors vermilion and beige. At about 200 meters from the famous Malecón de La Habana and at a distance of 6 kms from the center of Havana "La Habana Vieja", 20 minutes from the José Martí International Airport and 25 minutes from Playas del Este, they deserve a very peculiar position .
The Hotel characterises itself for being housed in a spectacular building from the 1920's, being the first skyscraper in the city of Havana, and for its breathtaking interiors representing the era it was built in, but with all its modern comfort and services that the client seeks. The Hotel was completely reformed in 2011 following a clear luxury style and keeping all the grandeur of its recent history that included many famous personalities of diplomacy and business companies, as well as the art world. It is for this reason that an exquisite care was taken to preserve every detail during its restoration and decoration.
Throughout the interior of the Hotel, displayed are more than 400 classified pieces of art, giving a very unique taste to the guests from the moment of their arrival. They can enjoy the "Lobby Museum", relax by the poolside, or go on interesting excursions to Pinar del Río, Varadero, Santa María del Mar or other famous sites nearby.
It is a hotel where the guests can appreciate the best virtues of Havana, the great colonial capital of Cuba.
Hours and Conditions
Check in

14:00 Hrs

Check out

12:00 Hrs

Conditions

CLIENT GUARANTEES AND RIGHTS OF THE OPERATOR AND THE HOTEL WITH REGARDS TO RESERVATIONS, CANCELLATIONS AND NO SHOWS. NO SHOWS. Early departure, a penalty corresponding to 100% of the entire stay is applied as cancellation fees. Cancellations made less than 05 days before arrival and no show, a penalty corresponding to 2 nights stay applies as cancellation fees.
Suite Room

2 rooms

(View room facilities)

2 Connecting spaces
A separate living room with TV
Air Conditioning
Bathroom's amenities
Amplifying mirror
Bathroom with bath/shower
Bedroom
Bedside tables
Blackout drapes
Central table
City views
Closet
Clothes rack
Coffee tables
Dressing closet
Dressing table
Dressing table chair
Voltage(current):220 V/60 Hz
Free Wi-Fi
Fridge
Full Bathroom
Furnishings in the Terrace
Guest's bathroom
Hairdryer
Hot/Cold water(24 hours)
King Size Bed
Living room
Living room area with sofa and coffee table
Luggage rack
Mini-fridge
Music TV channel
Outdoor chair
Private bathroom
Private climate control
Private solarium
Reading chair
Reading lamps
Remote control for TV
Romantic décor
Rooms cleaned daily
Safety deposit box $
Satellite LCD TV
Sea views
Seating area
Sheets, blankets and towels
Shower
Sitting area
Sunrise views
Sunset views
Table
Telephone
Terrace
TV-minibar table
Vanity mirror
Wi-Fi Internet connection Free

×

Standard Room

156 rooms

(View room facilities)

2 Queen size beds
Air Conditioning
Bathroom's amenities
Bathroom with bath/shower
Bedroom
Bedside tables
Blackout drapes
City views
Closet
Clothes rack
Connecting rooms
Crib (on request)
Dressing closet
Dressing table
Dressing table chair
Voltage(current):220 V/60 Hz
Extra bed (on request)
Facilities for disabled guests
Free Wi-Fi
Fridge
Full Bathroom
Hairdryer
Hot/Cold water(24 hours)
Luggage rack
Magnifying mirror
Music TV channel
Private bathroom
Private climate control
Reading lamps
Remote control for TV
Romantic design
Rooms cleaned daily
Safety deposit box $
Satellite TV
Sea views
Sheets, blankets and towels
Suitable for wheelchairs
Sunrise views
Sunset views
Table
Telephone
TV-minibar table
Vanity mirror

×

ROC PLUS ROM

(View room facilities)

2 Queen size beds
Air Conditioning
Bathroom's amenities
Amenities in the bathroom
Amplifying mirror
Bathroom with shower
Beach towels in the room
Bedroom
Bedroom/lounge
Bedside tables
Blackout drapes
Bottle of red wine on arrival
Bottle of rum on arrival
Check-out facilities
City views
Closet
Clothes rack
Clothes valet
Dressing closet
Dressing table
Dressing table chair
Voltage(current):220 V/60 Hz
Exclusive Buffet area and service according to meal plan
Exclusive discounts on food and beverages
Exclusive pool area with personalized attention
Express check-in
Express check-in facilities
Free Wi-Fi
Full amenities
Full Bathroom
Furnishings in the Terrace
Hairdryer
Hot/Cold water(24 hours)
Late Check out Free, on request and subject to availability
LCD satellite TV/USB port
Luggage rack
Magnifying mirror
Manual temperature control
Mini-fridge
Minibar (Restocked daily with water)
Music TV channel
Personalized Express Check in
Pool towel in the room upon arrival
Pool towels
Private bathroom
Private climate control
Reading lamps
Remote control for TV
Renovated rooms
Rooms cleaned daily
Safety deposit box $
Seating area
Sheets, blankets and towels
Sitting area
Special service in your stay
Sunrise views
Sunset views
Table
Telephone
TV
Vanity mirror
Welcome gift for adults (Bottle of Rum)
Wi-Fi Internet connection Free

×

---

Dining conditions

A variety of atmospheres and culinary options.
The menus and times of the restaurants and bars may be subject to change depending on the season and hotel occupancy.
Non-smoking areas.
Dress code (formal) in all restaurants.
The buffet service does not include beverages in the price.
Premium Brand Drinks.
Diet and vegetarian dishes (on request).
Live entertainment at some restaurants.

Services and Facilities

($) Services with additional charge