Grand Aston La Habana hotel

★

★

★

★

★
Calle 1a y D, Vedado, Plaza de la Revolución, La Habana, Cuba. Zip Code: 10 400.. Tel.: 7886300/ 78863036 /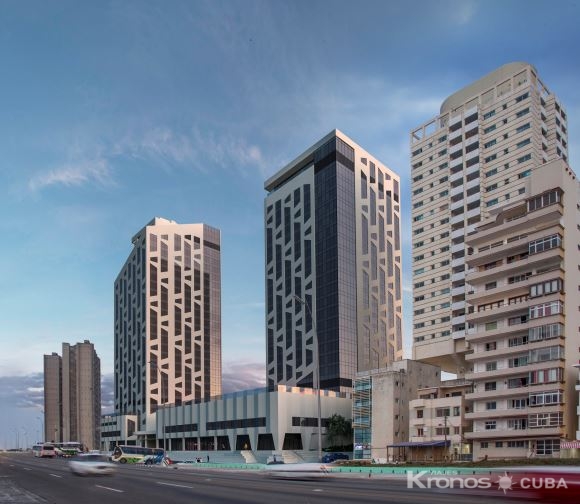 600 elegant rooms and suites pay homage to Vedado's rich history and feature international standards including flat-screen TV, air conditioning, minibar, safe, iron and ironing board, scale and hairdryer. If you are passionate about waking up to a spectacular sunrise, our rooms overlooking the beautiful bay will leave you in awe.
A sophisticated, contemporary and elegant retreat, the new GRAND ASTON Havana showcases modern living at the highest level, revealing uniquely designed architecture, cool rooms, eclectic astronomy, inspiring event spaces, welcoming relaxation and wellness facilities and wellness facilities including the spectacular infinity pool overlooking the glistening waters of the iconic Havana Bay. Soaring into the Cuban sky and over the legendary Malecón, this urban oasis is ideally located in the commercial area of Vedado, the capital's central business district, close to offices, stores, restaurants and entertainment.
From local to international options, explore an unparalleled selection of exquisite restaurants and bars that have become the city's newest attractions. For a unique experience of rejuvenation and relaxation, immerse yourself in exotic Asian healing techniques at Spa Ubud, Havana's only authentic Balinese spa.
Hours and Conditions
Check in

16:00 Hrs

Check out

12:00 Hrs
Deluxe Room

34 m2

342 rooms

(View room facilities)

1 Two-seater sofa
2 Armchairs
Air Conditioning
Amenities in the bathroom
Amplifying mirror
Armchairs
Bathroom with bath/shower
Bedroom
Bedside tables
Blackout drapes
City views
Closet
Clothes rack
Coffee and Tea Maker
Coffee tables
Desk/Working area
Digital safety deposit box
Dressing table chair
Electric current:110 V/60 Hz
Electric current:220 V/60 Hz
Full amenities
Full Bathroom
Hairdryer
Hot / Cold water (24 hours)
Iron and ironing board
King-size or twin beds
Luggage rack
Magnifying mirror
Minibar $
Music TV channel
Reading chair
Reading lamps
Remote control for TV
Rooms cleaned daily
Safety deposit box
Satellite flat TV/USB port
Seating area
Sheets, blankets and towels
Special service in your stay
Sunrise views
Sunset views
Table
Telephone
Vanity mirror
Wi-Fi Internet connection Free

×

DELUXE SEA VIEW Room

34 m2

163 rooms

(View room facilities)

1 Two-seater sofa
2 Armchairs
Air Conditioning
Amenities in the bathroom
Amplifying mirror
Armchairs
Bathroom with bath/shower
Bedroom
Bedside tables
Blackout drapes
Breathtaking ocean views
City views
Closet
Clothes rack
Coffee and Tea Maker
Coffee tables
Desk/Working area
Digital safety deposit box
Dressing table chair
Electric current:110 V/60 Hz
Electric current:220 V/60 Hz
Full amenities
Full Bathroom
Hairdryer
Hot / Cold water (24 hours)
Iron and ironing board
King-size or twin beds
Luggage rack
Magnifying mirror
Minibar $
Music TV channel
Reading chair
Reading lamps
Remote control for TV
Rooms cleaned daily
Safety deposit box
Satellite flat TV/USB port
Seating area
Sheets, blankets and towels
Special service in your stay
Sunrise views
Sunset views
Table
Telephone
Vanity mirror
Wi-Fi Internet connection Free

×

Club Room

34 m2

45 rooms

(View room facilities)

1 Two-seater sofa
2 Armchairs
Air Conditioning
Amenities in the bathroom
Amplifying mirror
Armchairs
Bathroom with bath/shower
Bedroom
Bedside tables
Blackout drapes
City views
Closet
Clothes rack
Coffee and Tea Maker
Coffee tables
Desk/Working area
Digital safety deposit box
Dressing table chair
Electric current:110 V/60 Hz
Electric current:220 V/60 Hz
Full amenities
Full Bathroom
Hairdryer
Hot / Cold water (24 hours)
Iron and ironing board
King-size or twin beds
Luggage rack
Magnifying mirror
Minibar $
Music TV channel
Reading chair
Reading lamps
Remote control for TV
Rooms cleaned daily
Safety deposit box
Satellite flat TV/USB port
Seating area
Sheets, blankets and towels
Special service in your stay
Sunrise views
Sunset views
Table
Telephone
Umbrellas
Vanity mirror
Wi-Fi Internet connection Free

×

Ocean Club Room

34 m2

32 rooms

(View room facilities)

1 Two-seater sofa
2 Armchairs
Air Conditioning
Amenities in the bathroom
Amplifying mirror
Armchairs
Bathroom with bath/shower
Bedroom
Bedside tables
Blackout drapes
Breathtaking ocean views
City views
Closet
Clothes rack
Coffee and Tea Maker
Coffee tables
Desk/Working area
Digital safety deposit box
Dressing table chair
Electric current:110 V/60 Hz
Electric current:220 V/60 Hz
Full amenities
Full Bathroom
Hairdryer
Hot / Cold water (24 hours)
Iron and ironing board
King-size or twin beds
Luggage rack
Magnifying mirror
Minibar $
Music TV channel
Reading chair
Reading lamps
Remote control for TV
Rooms cleaned daily
Safety deposit box
Satellite flat TV/USB port
Seating area
Sheets, blankets and towels
Special service in your stay
Sunrise views
Sunset views
Table
Telephone
Umbrellas
Vanity mirror
Wi-Fi Internet connection Free

×

Junior Suite Room

40 m2

11 rooms

(View room facilities)

1 Two-seater sofa
2 Armchairs
2 Connecting spaces
2 Satellite flat TVs
2 Seater sofa
2 Telephones in the room
24 hour room service
4 Chairs
Air Conditioning
AM / FM Clock Radio
Amenities in the bathroom
Amplifying mirror
Armchairs
Bathrobe and slippers
Bathroom with bathtub and shower
Bathroom with jacuzzi
Bedroom
Bedside tables
Bidet
Blackout drapes
Breakfast table
Breathtaking ocean views
CD / USB Player
City views
Closet
Clothes rack
Coffee and Tea Maker
Coffee tables
Concierge services
Continental breakfast in room
Desk/Working area
Digital safety deposit box
Dressing table chair
Electric current:110 V/60 Hz
Electric current:220 V/60 Hz
Full amenities
Full Bathroom
Guest's bathroom
Hairdryer
Hall
Hot / Cold water (24 hours)
Iron and ironing board
King-size or twin beds
Living-dining room
Luggage rack
Magnifying mirror
Minibar $
Music TV channel
Pillow's menu
Reading chair
Reading lamps
Remote control for TV
Rooms cleaned daily
Safety deposit box
Satellite flat TV/USB port
Scale
Seating area
Sheets, blankets and towels
Special service in your stay
Sunrise views
Sunset views
Superior category bathroom
Table
Telephone
TV-minibar table
Umbrellas
Vanity mirror
VIP amenities (daily)
Welcome cocktail
Wi-Fi Internet connection Free

×

Aston Suite Room

69 m2

7 rooms

(View room facilities)

1 Two-seater sofa
2 Armchairs
2 Connecting spaces
2 Satellite flat TVs
2 Seater sofa
2 Telephones in the room
24 hour room service
4 Chairs
Air Conditioning
AM / FM Clock Radio
Amenities in the bathroom
Amplifying mirror
Armchairs
Bathrobe and slippers
Bathroom with bathtub and shower
Bathroom with jacuzzi
Bedroom
Bedside tables
Bidet
Blackout drapes
Breakfast table
Breathtaking ocean views
CD / USB Player
City views
Closet
Clothes rack
Coffee and Tea Maker
Coffee tables
Concierge services
Continental breakfast in room
Desk/Working area
Digital safety deposit box
Dressing table chair
Electric current:110 V/60 Hz
Electric current:220 V/60 Hz
Full amenities
Full Bathroom
Guest's bathroom
Hairdryer
Hall
Hot / Cold water (24 hours)
Iron and ironing board
King-size or twin beds
Living-dining room
Luggage rack
Magnifying mirror
Minibar $
Music TV channel
Pillow's menu
Reading chair
Reading lamps
Remote control for TV
Rooms cleaned daily
Safety deposit box
Satellite flat TV/USB port
Scale
Seating area
Sheets, blankets and towels
Special service in your stay
Sunrise views
Sunset views
Superior category bathroom
Table
Telephone
TV-minibar table
Umbrellas
Vanity mirror
VIP amenities (daily)
Welcome cocktail
Wi-Fi Internet connection Free

×

---

Dining conditions

A variety of atmospheres and culinary options.
The menus and times of the restaurants and bars may be subject to change depending on the season and hotel occupancy.
Non-smoking areas.
Dress code (formal) in all restaurants.
The buffet service does not include beverages in the price.
Premium Brand Drinks.
24-hour room service ($).
Diet and vegetarian dishes (on request).
Live entertainment at some restaurants.

Services and Facilities

($) Services with additional charge