Roc Arenas Doradas Hotel

★

★

★

★

★
Autopista Varadero, Km. 12, Varadero, Matanzas, Cuba. Postal Code: 42 200. Tel.: (+53 45) 668150 Ext 5326 // (+53 45) 66 8150 through 56 / (+53 45) 66 8158 // +53 52685991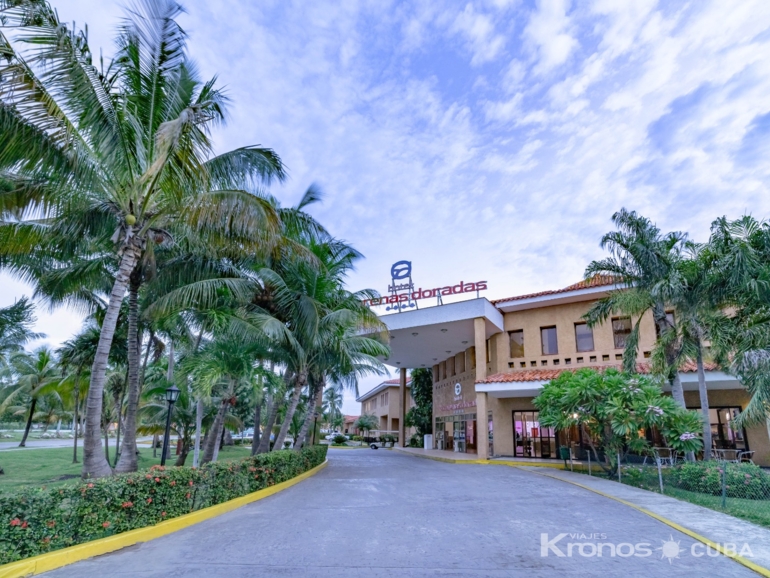 Just a 25 minute drive down the peninsula from Varadero´s international airport, and some 10 minutes from the town centre you will find the Hotel ROC Arenas Doradas, a picturesque beachfront resort backed by the "Marina Chapelin", and ideally positioned in colourful gardens which open out onto the beach known as "Playa Los Taïnos", considered to be one of the best in Cuba.
Flanking the golden sands of Varadero Beach, this open-plan 316 room resort is spaciously laid out around a tropical land-scaped pool area with a sunken pool bar, children's pool and open-air jacuzzi. Beside the pool is the charming thatched Grill Restaurant "Los Loritos" and pathways lined with brightly coloured exotic vegetation lead to the wonderful beach of white sand where the water sports centre "Los Taïnos" offers you a wide range of activities. The Beach Restaurant "El Galeón" awaits you with a purely Caribbean atmosphere and culinary specialities including Spanish paella, fresh fish and seafood, barbacues and grill .
Accommodation is in the form of eleven, red-tiled, 2-floor sandstone chalets arranged in a horseshoe shape opening out towards the beach, divided by an ornamental stream and criss-crossed by pathways through the lush gardens. Opposite the main Buffet-Restaurant "El Escarpe" you will find the indoor/outdoor evening Entertainment's Centre. The spacious octagonal lobby features a central fountain and Lobby-bar "El Patio" with a wicker furnished gallery and a variety of shops selling local handicrafts, souvenirs and other holiday essentials. The guests can enjoy the daily live piano ,salsa or jazz rhythm while sitting comfortably in the lobby or having a cocktail in the lobby bar.
Set in 20 acres of land, the Hotel complex is characterised by intrinsic Caribbean architecture blended artistically with a strong influence of Andalusian features. The low-rise construction of the Hotel is perfectly integrated with palm trees in their natural habitat, the picturesque landscaped pool for adults , the special one for children and the open air jacuzzi.
The unmistakable Caribbean atmosphere is intensified by the profusion of coconut trees, exotic vegetation, extensive lush gardens, waterfalls, ornamental streams, Caribbean music and the stunning white sands which contrast the exquisite turquoise blue of the sea.
Hours and Conditions
Check in

16:00 Hrs

Check out

12:00 Hrs

Conditions

CLIENT GUARANTEES AND RIGHTS OF THE OPERATOR AND THE HOTEL WITH REGARDS TO RESERVATIONS, CANCELLATIONS AND NO SHOWS. NO SHOWS. Early departure, a penalty corresponding to 100% of the entire stay is applied as cancellation fees. Cancellations made less than 05 days before arrival and no show, a penalty corresponding to 2 nights stay applies as cancellation fees.
Standard Room

292 rooms

(View room facilities)

2 Queen size beds
Air Conditioning
Bathroom's amenities
Amplifying mirror
Bathroom with bath/shower
Bedroom
Bedside tables
Blackout drapes
Closet
Clothes rack
Clothes valet
Coffee and Tea Maker
Coffee tables
Combined Living-bedroom
Crib (on request)
Desk/Working area
Dressing closet
Dressing table
Dressing table chair
Voltage(current):220 V/60 Hz
Extra bed (on request)
Free Wi-Fi
Full Bathroom
Furnishings in the Terrace
Garden views
Hairdryer
Hot/Cold water(24 hours)
In a quiet area
Iron and ironing board
LCD satellite TV/USB port
Luggage rack
Magnifying mirror
Mini-fridge
Music TV channel
Outdoor chair
Patio view
Pool views
Private bathroom
Private climate control
Reading lamps
Remote control for TV
Rooms cleaned daily
Safety deposit box $
Satellite TV
Seating area
Sheets, blankets and towels
Shower
Sitting area
Sunrise views
Sunset views
Table
Tables on the terrace
Telephone
Terrace
Tropical gardens views
TV-minibar table
Vanity mirror
Wi-Fi connection

×

ROC PLUS ROM

24 rooms

(View room facilities)

2 Queen size beds
Air Conditioning
Amenities in the bathroom
Amplifying mirror
Bathroom with bath/shower
Beach towels in the room
Bedside tables
Blackout drapes
Bottle of rum on arrival
Closet
Clothes rack
Crib (on request)
Dressing table
Dressing table chair
Early check-in
Voltage(current):220 V/60 Hz
Exclusive beach area
Express check-in facilities
Extra bed (on request)
Free Wi-Fi
Full Bathroom
Furnishings in the Terrace
Garden views
Hairdryer
Hot / Cold water (24 hours)
Iron and ironing board
Late check-out
Late check-out is based on availability
Luggage rack
Magnifying mirror
Minibar (Restocked daily with water)
Music TV channel
Outdoor chair
Preferred restaurant reservations
Private bathroom
Reading lamps
Remote control for TV
Rooms cleaned daily
Safety deposit box $
Satellite TV
Seating area
Sheets, blankets and towels
Sunrise views
Sunset views
Tables on the terrace
Telephone
Terrace
Vanity mirror
Welcome gift for adults (Bottle of Rum)

×

---

Dining conditions

A variety of atmospheres and culinary options.
The menus and times of the restaurants and bars may be subject to change depending on the season and hotel occupancy.
Non-smoking areas.
Reservations and dress code (formal) for dinner in the specialist restaurants.
3 Meals daily plus snacks.
Wines at lunch and dinner.
Unlimited alcoholic and non-alcoholic beverages.
Diet and vegetarian dishes (on request).
Live entertainment at some restaurants.

Services and Facilities

($) Services with additional charge