Blau Varadero Hotel - Adults Only Over 18 Years Old

★

★

★

★

★
Carretera de Las Morlas km.15, Varadero, Matanzas, Cuba. Postal Code: 42 200. Tel.: (+53 45) 66 7545 / (+53 45) 66 7494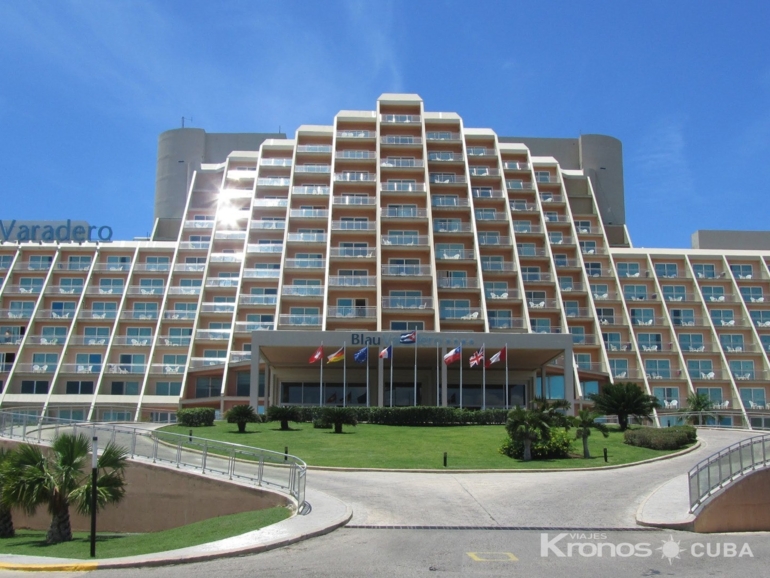 A minimum of 3 night stay is required!
Emerging from the sand, sun and warm waters of the Caribbean, the hotel is meant to be the tallest and most majestic in Varadero, whose elegant bedrooms offer a view of both sea and sky. The excellent service, elegant structure and privileged location in an area of virgin sands and plant-based life converge in an impressive combination of distinction, quality and ocean.
It is just 31 miles from Varadero's International Airport and 11 miles from downtown. The elegant Blau Varadero Hotel was renovated in 2005 and, with its modern design, high-quality standards of Blau Hotels and the special Cuban flair, is a very recommendable choice to enjoy your Caribbean vacations. So do not forget to include this facility as you plan your next Cuba holiday tour.
Hours and Conditions
Check in

16:00 Hrs

Check out

12:00 Hrs
Superior Front Sea View Room

175 rooms

(View room facilities)

1 Massage(20 min) per room/week
2 Armchairs
Air Conditioning
Bathroom's amenities
Amenities SELECT
Audio-base for IPod, IPad, IPhone and smartphones
Balcony or Terrace
Bathrobe and slippers
Bathroom with bath/shower
Bedroom
Bedside tables
Blackout drapes
Bottle of sparkling wine
Closet
Coffee tables
Dressing table
Dressing table chair
Voltage(current):110 V/60 Hz
Voltage(current):220 V/60 Hz
Front sea views
Fruit basket at arrival
Furnishings in the Balcony
Furnishings in the Terrace
Hairdryer
Iron and ironing board
Kettle service
King-size or twin beds
Luggage rack
Magnifying mirror
Minibar (restocked daily)
Minibar SELECT
Nightly turndown service
Non-smoking rooms
Pool views
Private check-in with sparkling wine
Private climate control
Reading lamps
Remote control for TV
Renewed furniture & textiles
Reservations in à la carte restaurants
Rooms cleaned daily
Rooms with tile
Safety deposit box
Satellite LCD TV
Telephone
TV-minibar table
Vanity mirror

×

SELECT SEA VIEW Suite room

2 rooms

(View room facilities)

1 Massage(20 min) per room/week
2 Bathrooms
2 Satellite LCD TV's
2 Terraces
Air Conditioning
Amenities SELECT
Audio-base for IPod, IPad, IPhone and smartphones
Bathrobe and slippers
Bathroom with bath/shower
Bedroom
Bedside tables
Blackout drapes
Bottle of sparkling wine
Closet
Coffee tables
Crib (on request)
Dressing table
Dressing table chair
Voltage(current):110 V/60 Hz
Voltage(current):220 V/60 Hz
Extra bed (on request)
Front sea views
Fruit basket at arrival
Furnishings in the Terrace
Hairdryer
Iron and ironing board
Kettle service
King Size Bed
Living room
Luggage rack
Bathroom's luxury amenities
Minibar (restocked daily)
Minibar SELECT
Nightly turndown service
Non-smoking rooms
Private check-in with sparkling wine
Private climate control
Reading lamps
Remote control for TV
Renewed furniture & textiles
Reservations in à la carte restaurants
Rooms cleaned daily
Rooms with tile
Safety deposit box
Superior category bathroom
Telephone
TV-minibar table
Vanity mirror

×

Suite Vista Bahía

10 rooms

(View room facilities)

1 Two-seater sofa
2 Armchairs
2 Bathrooms
2 Satellite TVs
2 Seater sofa
2 Terraces
Air Conditioning
Bathrobe and slippers
Bathroom with bath/shower
Bedroom
Bedside tables
Blackout drapes
Closet
Coffee tables
Crib (on request)
Dressing table
Dressing table chair
Voltage(current):110 V/60 Hz
Voltage(current):220 V/60 Hz
Extra bed (on request)
Furnishings in the Terrace
Hairdryer
Iron and ironing board
Kettle service
King Size Bed
Living room
Luggage rack
Bathroom's luxury amenities
Magnifying mirror
Minibar (restocked daily)
Nightly turndown service
Non-smoking rooms
Private climate control
Reading lamps
Remote control for TV
Rooms cleaned daily
Rooms with tile
Safety deposit box
Sea views
Superior category bathroom
Telephone
TV-minibar table
Vanity mirror

×

Superior Bay View Room

130 rooms

(View room facilities)

Air Conditioning
Bathroom's amenities
Bathroom with bath/shower
Bedroom
Bedside tables
Closet
Coffee tables
Connecting rooms
Crib (on request)
Dressing table
Dressing table chair
Voltage(current):110 V/60 Hz
Voltage(current):220 V/60 Hz
Extra bed (on request)
Furnishings in the Terrace
Hairdryer
Kettle service
King-size or twin beds
Luggage rack
Magnifying mirror
Minibar (restocked daily)
Non-smoking rooms
Pool views
Private climate control
Remote control for TV
Rooms cleaned daily
Rooms with tile
Safety deposit box
Satellite TV
Sea views
Telephone
Terrace
TV-minibar table
Vanity mirror

×

Superior Garden View Room

78 rooms

(View room facilities)

Air Conditioning
Bathroom's amenities
Balcony or Terrace
Bathroom with bath/shower
Bedroom
Bedside tables
Closet
Coffee tables
Crib (on request)
Dressing table
Dressing table chair
Voltage(current):110 V/60 Hz
Voltage(current):220 V/60 Hz
Extra bed (on request)
Furnishings in the Balcony
Furnishings in the Terrace
Garden views
Hairdryer
Kettle service
King-size or twin beds
Luggage rack
Magnifying mirror
Minibar (restocked daily)
Non-smoking rooms
Private climate control
Remote control for TV
Rooms with tile
Safety deposit box
Satellite TV
Suitable for wheelchairs
Telephone
TV-minibar table
Vanity mirror

×

Select Vista Mar

(View room facilities)

---

Dining conditions

A variety of atmospheres and culinary options.
The menus and times of the restaurants and bars may be subject to change depending on the season and hotel occupancy.
Non-smoking areas.
Reservations and dress code (formal) for dinner in the specialist restaurants.
Wines at lunch and dinner.
24 hours snacks and drinks service.
Unlimited alcoholic and non-alcoholic beverages.
Diet and vegetarian dishes (on request).
Live entertainment at some restaurants.

Services and Facilities

($) Services with additional charge