Islazul Balcón del Caribe Hotel

★

★

★

★

★
Carretera del Morro km 7½, Santiago de Cuba, Cuba. Postal Code: 90 100. Tel.: (+53 22) 69 1506 / (+53 22) 69 2398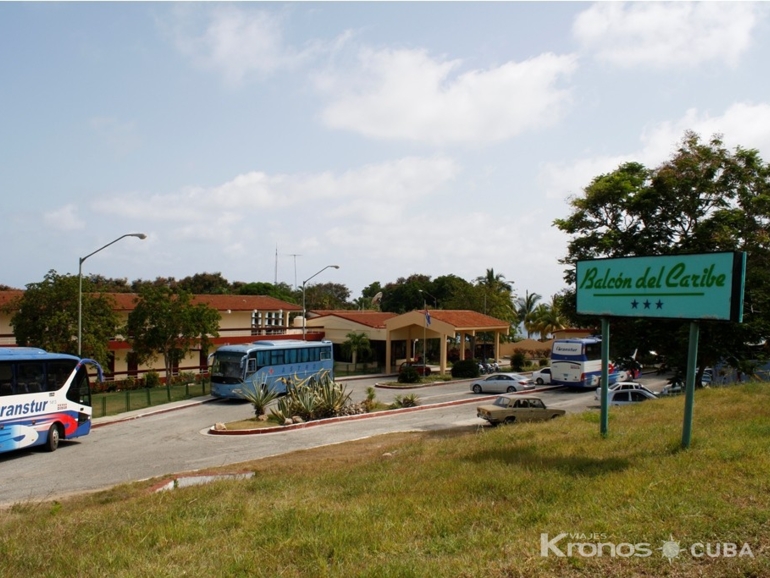 Located at the entrance of Santiago de Cuba Bay, this hotel is only 7 kilometers from the center of the city and 3 from the international airport, amid a rugged landscape of amazing beauty, very close to the San Pedro de la Roca del Morro Fortress, a World Heritage Site. From this facility, you can appreciate an extensive view of the Caribbean Sea, which welcomes visitors.
Hours and Conditions
Check in

16:00 Hrs

Check out

12:00 Hrs

Conditions

CANCELLATION POLICY The hotel reserves the right to apply a cancellation or no-show penalty in case of: - Cancellations made less than 5 days in advance, where 50% of the total stay per person will be discounted from the reserved meal plan. - No show, where 100% of the price of one (1) night per room in the reserved food plan and 50% of the rest of the stay in the reserved food plan will be discounted.
Standard Room

72 rooms

(View room facilities)

2 Armchairs
Air Conditioning
Bathroom's amenities
Balcony
Bathroom with shower
Bedroom
Bedside tables
Blackout drapes
Closet
Coffee tables
Connecting rooms
Dressing table
Dressing table chair
Voltage(current):110 V/60 Hz
Voltage(current):220 V/60 Hz
Extra bed (on request)
Furnishings in the Balcony
Garden views
Luggage rack
Minibar $
Reading lamps
Remote control for TV
Rooms cleaned daily
Satellite TV
Telephone
Vanity mirror

×

Bungalow Room

22 rooms

(View room facilities)

2 Armchairs
2 Seater sofa
3/4 Bed
Air Conditioning
Bathroom's amenities
Bathroom with shower
Bedroom
Bedside tables
Blackout drapes
Closet
Coffee tables
Dressing table
Dressing table chair
Voltage(current):110 V/60 Hz
Voltage(current):220 V/60 Hz
Furnishings in the Terrace
Garden views
Living area
Luggage rack
Minibar $
Remote control for TV
Rooms cleaned daily
Satellite TV
Sea views
Telephone
Terrace
Vanity mirror

×

---

Dining conditions

The menus and times of the restaurants and bars may be subject to change depending on the season and hotel occupancy.
Diet and vegetarian dishes (on request).

Services and Facilities

($) Services with additional charge