Pullman Cayo Coco Hotel

★

★

★

★

★
Playas Las Coloradas, Cayo Coco, Jardines del Rey, Morón, Ciego de Ávila, Cuba. Zip Code: 69 400.. Tel.: (+53 33) 30 44 00 / (+53 33) 30 24 42 / (+53 33) 30 24 42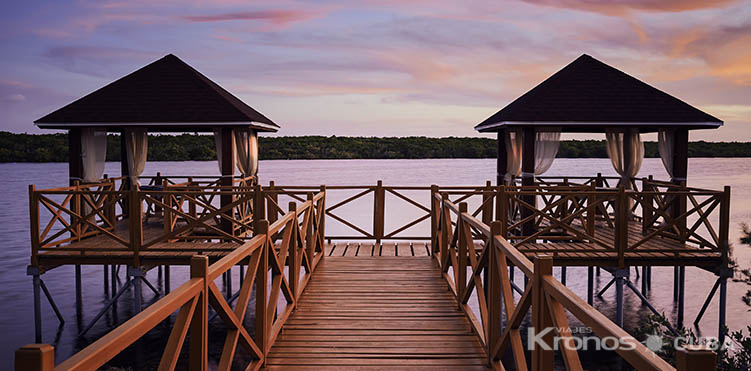 Choose between our main hotel specially designed for families and its 524 Deluxe rooms; or THE COLLECTION by Pullman (Adults Only) and it´s 42 Junior Suites & Suites, featuring a 24 hours personalized Butler service on our Golden Villa. Specially dedicated to indulge your loved one and yourself in the most exclusive Cuban island of «Cayo Coco».
The new «PULLMAN Cayo Coco», located in one of the most beautiful and secured bech of the island, will seduce you by it´s modern, yet elegant and exclusive design. Let us pamper you and your family by offering you a «once in a lifetime» hotel experience while enjoying the legendary and genuine Cuban hospitality.
The hotel provides you with an extensive choice of services and facilities such as 6 pools for Kids & Adults (1 exclusive for THE COLLECTION), FIT & SPA Lounge (massages, treatments sauna, gym, cardio-vascular, hair dresser, manicure, pedicure, etc.). A 600 meters virgin beach area with umbrellas & balinese beds. Hydro massage, jacuzzis, 2 tennis courts, daily & nightly entertainment, Night CLub, Theater, Nautical Center, Kids Club with whirl pool, play ground and much more...
Spend your dreamed holidays in the only All Inclusive by Pullman Hotels & Resorts while facing the crystal clear Caribbean waters.
Hours and Conditions
Check in

16:00 Hrs

Check out

12:00 Hrs

Conditions

CLIENT GUARANTEES AND RIGHTS OF THE OPERATOR AND THE HOTEL WITH REGARDS TO RESERVATIONS, CANCELLATIONS AND NO SHOWS. NO SHOWS. - Cancellations made less than 5 days before the start date of the reservation and no-show at the hotel on the day the reservation starts, a penalty corresponding to 100% of the entire stay is applied as cancellation fees.
DELUXE GARDEN VIEW Room

40 m2 (View room facilities)

1 Two-seater sofa
2 Armchairs
Air Conditioning
Bathroom's amenities
Balcony or Terrace
Bathrobes
Bathroom with bathtub and shower
Beach & pool towels
Bedroom
Bedside tables
Blackout drapes
Coffee and Tea Maker
Coffee tables
Crib (on request)
Direct-dial telephone in bedroom & bathroom
Dressing closet
Dressing room
Dressing table
Voltage(current):110 V/60 Hz
Voltage(current):220 V/60 Hz
Extra bed (on request)
Furnishings in the Balcony
Garden views
Hairdryer
Hot/Cold water(24 hours)
Iron and ironing board
King Size Bed
Luggage rack
Minibar
Radio/Alarm clock
Reading lamps
Remote control for TV
Rooms cleaned daily

×

DELUXE LAGOON VIEW ROOM

40 m2 (View room facilities)

1 Two-seater sofa
2 Armchairs
Air Conditioning
Bathroom's amenities
Balcony or Terrace
Bathrobes
Bathroom with bath/shower
Beach & pool towels
Bedroom
Bedside tables
Blackout drapes
Coffee and Tea Maker
Coffee tables
Crib (on request)
Direct-dial telephone in bedroom & bathroom
Dressing table
Dressing table chair
Voltage(current):110 V/60 Hz
Voltage(current):220 V/60 Hz
Extra bed (on request)
Furnishings in the Balcony
Furnishings in the Terrace
Hairdryer
Iron and ironing board
King-size or twin beds
Lagoon views
Luggage rack
Minibar
Radio
Reading lamps
Rooms cleaned daily
Safety deposit box
Satellite TV
Sheets, blankets and towels
TV-minibar table
Vanity mirror

×

Deluxe Front Sea View room

40 m2 (View room facilities)

1 Two-seater sofa
2 Armchairs
Air Conditioning
Bathroom's amenities
Balcony or Terrace
Bathrobes
Bathroom with bath/shower
Beach & pool towels
Bedroom
Bedside tables
Blackout drapes
Coffee and Tea Maker
Coffee tables
Crib (on request)
Direct-dial telephone in bedroom & bathroom
Dressing table
Dressing table chair
Voltage(current):110 V/60 Hz
Voltage(current):220 V/60 Hz
Extra bed (on request)
Furnishings in the Balcony
Furnishings in the Terrace
Hairdryer
Iron and ironing board
King-size or twin beds
Lagoon views
Luggage rack
Minibar
Radio
Reading lamps
Rooms cleaned daily
Safety deposit box
Satellite TV
Sea views
Sheets, blankets and towels
TV-minibar table
Vanity mirror

×

DELUXE Partial Sea View

40 m2

136 rooms

(View room facilities)

Air Conditioning
Balcony or Terrace
Bathroom with bathtub and shower
Beach & pool towels
Bedside tables
Ceiling Fan
Coffee and Tea Maker
Daily amenities with bath salts
Digital safety deposit box
Direct-dial telephone in bedroom
Electric current:110 V/60 Hz
Electric current:220 V/60 Hz
Hairdryer
Hot/Cold water(24 hours)
Hot shower rain style
Iron and ironing board
King-size or twin beds
LCD satellite TV/USB port
Minibar
Music TV channel
Private bathroom
Reading lamps
Remote control for TV
Room service
Telephone
Wi-Fi Internet connection $

×

THE COLLECTION Junior Suite

45 m2

28 rooms

(View room facilities)

Air Conditioning
Balcony or Terrace
Bathrobe and slippers
Bathroom with bathtub and shower
Beach & pool towels
Bedside tables
Ceiling Fan
Coffee and Tea Maker
Concierge services
Daily amenities with bath salts
Digital safety deposit box
Direct-dial telephone in bedroom
Electric current:110 V/60 Hz
Electric current:220 V/60 Hz
Exclusive entrance
Free Wi-Fi
Hairdryer
Hot/Cold water(24 hours)
Hot shower rain style
Iron and ironing board
King-size or twin beds
Magnifying mirror
Minibar
Private check-out
Private entrance
Reading lamps
Remote control for TV
Room service
Rooms cleaned daily
Satellite TV
Welcome cocktail

×

THE COLLECTION Golden Villa

210 m2

1 room

(View room facilities)

Air Conditioning
Balcony or Terrace
Bathrobe and slippers
Bathroom with bathtub and shower
Beach and pool towels
Bedside tables
Butler service
Ceiling Fan
Coffee and Tea Maker
Concierge services
Daily amenities with bath salts
Digital safety deposit box
Dining room
Direct-dial telephone in bedroom
Electric current:110 V/60 Hz
Electric current:220 V/60 Hz
Exclusive entrance
Free Wi-Fi
Hairdryer
Hot and cold water
Hot shower rain style
Iron and ironing board
King-size or twin beds
LCD satellite TV/USB port
Living room
Magnifying mirror
Minibar
Private bathroom
Private check-out
Private entrance
Private garden
Private pool
Reading lamps
Room service
Rooms cleaned daily
Satellite TV
Telephone
Vanity mirror
Welcome cocktail

×

THE COLLECTION Suite

80 m2

13 rooms

(View room facilities)

Air Conditioning
Balcony or Terrace
Bathrobe and slippers
Bathroom with bathtub and shower
Beach and pool towels
Bedside tables
Ceiling Fan
Coffee and Tea Maker
Concierge services
Daily amenities with bath salts
Digital safety deposit box
Direct-dial telephone in bedroom
Electric current:110 V/60 Hz
Electric current:220 V/60 Hz
Exclusive entrance
Hairdryer
Hot and cold water
Hot shower rain style
Iron and ironing board
King-size or twin beds
LCD satellite TV/USB port
Living-dining room
Magnifying mirror
Minibar
Reading lamps
Remote control for TV
Room service
Rooms cleaned daily
Satellite TV
Vanity mirror
Welcome cocktail

×

---

Dining conditions

A variety of atmospheres and culinary options.
Unlimited alcoholic and non-alcoholic beverages.
The menus and times of the restaurants and bars may be subject to change depending on the season and hotel occupancy.
Non-smoking areas.
Reservations and dress code (formal) for dinner in the specialist restaurants.
Wines at lunch and dinner.
Dinners, additional menu and live music in some restaurants.
Diet and vegetarian dishes (on request).
Continental breakfast and tea time service.
3 Meals daily plus snacks.

Services and Facilities

($) Services with additional charge