Islazul Club Tropical Hotel

★

★

★

★

★
1ra. Avenida e/ 21 y 23, Varadero, Matanzas, Cuba. Postal Code: 42 200. Tel.: (+53 45) 61 3915 / (+53 45) 66 2035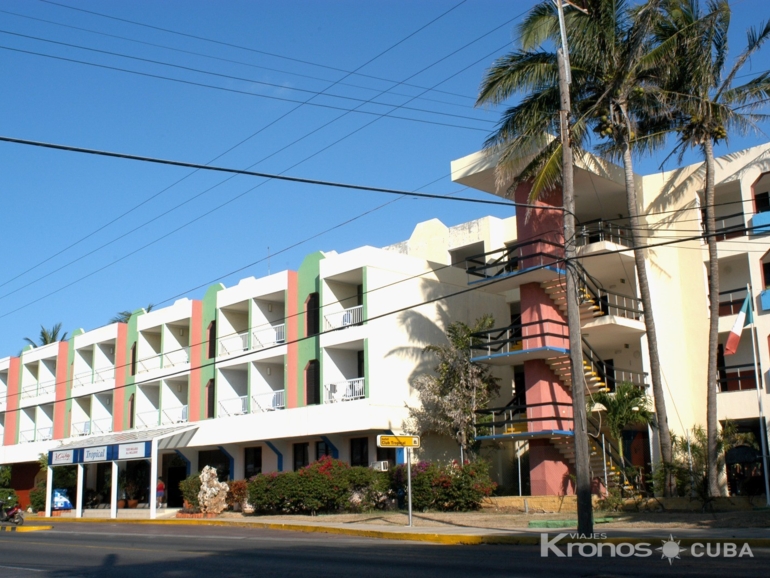 The Islazul Club Tropical hotel, an all inclusive resort in the heart of Varadero, provides modest yet comfortable lodging with all-inclusive services. The hotel invites you to enjoy a wide-ranging offer of options that, together with the pleasant treatment, the animation and nautical sports, will provide its guests with an entertaining and enjoyable stay and make this a great choice for your Cuba vacation. .
Hours and Conditions
Check in

16:00 Hrs

Check out

12:00 Hrs

Conditions

CANCELLATION POLICY The hotel reserves the right to apply a cancellation or no-show penalty in case of: - Cancellations made less than 5 days in advance, where 50% of the total stay per person will be discounted from the reserved meal plan. - No show, where 100% of the price of one (1) night per room in the reserved food plan and 50% of the rest of the stay in the reserved food plan will be discounted.
Standard Room

43 rooms

(View room facilities)

2 Armchairs
Air Conditioning
Bathroom's amenities
Balcony
Bathroom with shower
Bedroom
Bedside tables
Blackout drapes
Closet
Coffee tables
Connecting rooms
Dressing table
Dressing table chair
Voltage(current):110 V/60 Hz
Voltage(current):220 V/60 Hz
Extra bed (on request)
Furnishings in the Balcony
Garden views
Luggage rack
Reading lamps
Remote control for TV
Rooms cleaned daily
Safety deposit box $
Satellite TV
Telephone
TV-minibar table

×

SUPERIOR Room

77 rooms

(View room facilities)

2 Armchairs
Air Conditioning
Bathroom's amenities
Balcony or Terrace
Bathroom with shower
Bedroom
Bedside tables
Blackout drapes
Closet
Coffee tables
Dressing table
Dressing table chair
Voltage(current):110 V/60 Hz
Voltage(current):220 V/60 Hz
Furnishings in the Balcony
Furnishings in the Terrace
Garden views
Luggage rack
Pool views
Reading lamps
Remote control for TV
Rooms cleaned daily
Safety deposit box $
Satellite TV
Telephone
TV-minibar table
Vanity mirror

×

---

Dining conditions

A variety of atmospheres and culinary options.
The menus and times of the restaurants and bars may be subject to change depending on the season and hotel occupancy.
Non-smoking areas.
Reservations and dress code (formal) for dinner in the specialist restaurants.
3 Meals daily plus snacks.
Unlimited alcoholic and non-alcoholic beverages.
Live entertainment at some restaurants.

Services and Facilities

($) Services with additional charge